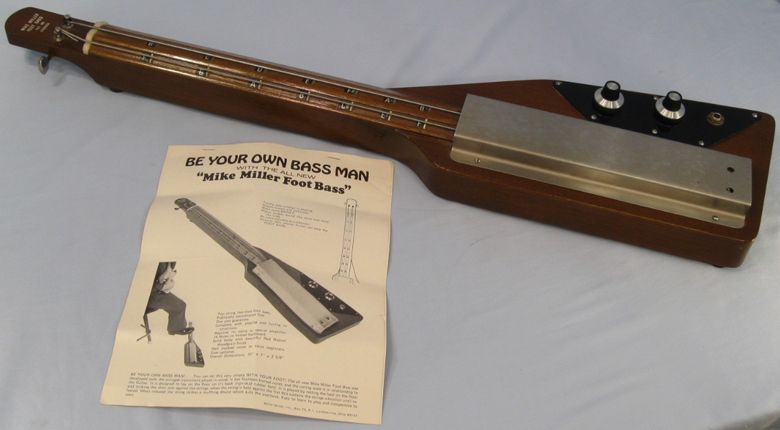 Just when you thought you'd seen it all, guitar-wise, along comes something like this long lost innovation from the 1960s! I guess it never caught on, because I've never seen or even heard of such an instrument before.
I'll let the text from the original instruction booklet (seen in the photo) tell you all about it:
BE YOUR OWN BASS MAN
With the all new
"Mike Miller Foot Bass"




Totally new concept in playing.

Amaze friends and audiences.

Make extra MONEY.

Makes singles sound like duos and duos like trios.

Be more valuable as a sideman.

Anyone who chords Guitar can play the FOOT BASS.




Two string, two level foot bass.

Practically maintenance free.

One year guarantee.

Complete with playing and tuning instructions.

Requires no extra or special amplifier.

14 Notes on fretted footboard.

Solid body with beautiful Red Walnut Woodgrain finish.

Well marked notes to assist beginners.

Case optional.

Overall dimensions: 31" x 7" x 2 5/8"




BE YOUR OWN BASS MAN!... You can do this very simply WITH YOUR FOOT! The all new Mike Miller Foot bass was developed with the stringed instrument player in mind. It has fourteen fretted notes, and the noting scale is in relationship to the Guitar. It is designed to lay on the floor on its back (non-skid rubber feet). It is played by resting the heel on the floor and striking the shoe sole against the strings, when the string is held against the fret this sustains the strings vibration until released. When relesed the string strikes a muffling device which kills the overtone. Easy to learn to play and inexpensive to own.
Currently being auctioned on eBay
.
Additional (20 June 2011): Sold for $191.64.
G L Wilson
© 2011, Guitarz - The Original Guitar Blog - now in its 10th year!