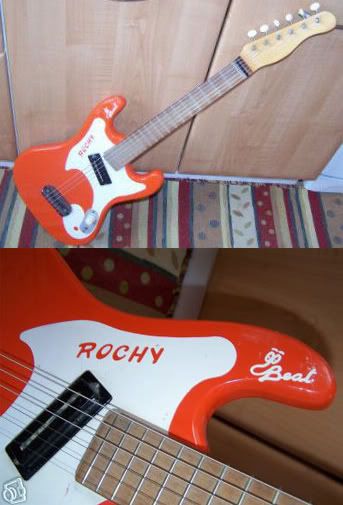 It's time for some more Guitar Cheese here at Guitarz! The seller seems to think that this little axe might be an Eko. Now, Italy's Eko guitars are known for some pretty funky designs, especially those of a certain vintage, but I've not seen one of these before. However, it does have "Made in Italy" on the back of the headstock (see the pics on the eBay page) so perhaps it was made by Eko. No other Italian guitar manufacturers spring to mind at the moment.

From its diminuitive size, I'd say that it would appear to be a guitar for the junior player, and rather bizarrely the output looks like a 1/8th inch jack - a special lead being included in the auction.

I doubt it's a quality instrument, but it certainly looks to be a nice fun piece for the collector of cheesy guitars.


Edit
: It IS an Eko, basically one sold as a child's toy together with a mini amp.
See here
.