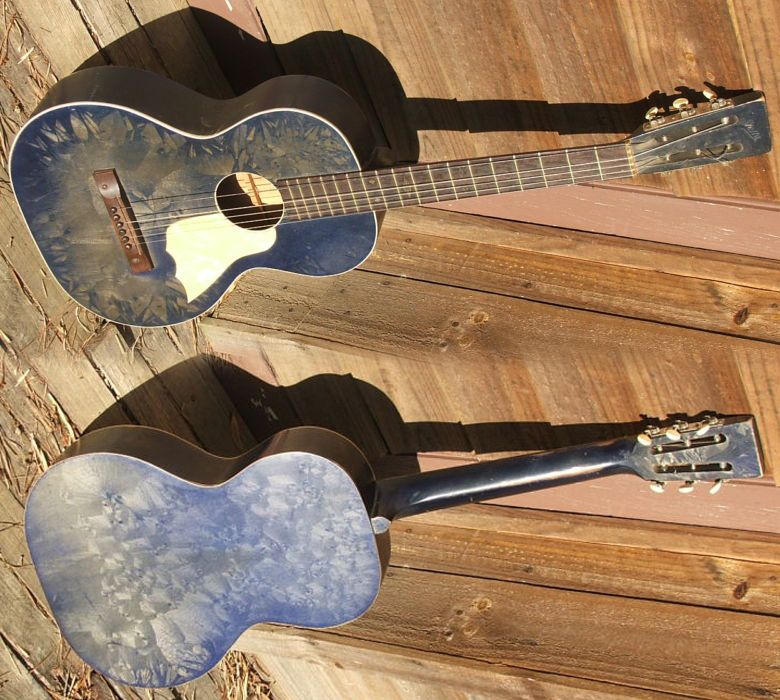 Founded in 1899, Stella was part of the Oscar Schmidt Company based in Jersey City, New Jersey, and was the brandname applied to low to mid level stringed instruments which as well as guitars included mandolins, banjos and autoharps. Partly because Stella guitars cost a mere fraction of a Gibson or Martin, they ended up being played by blues musicians such as Leadbelly and Charlie Patton.
The Stella brand, as well as other Oscar Schmidt brands Sovereign and La Scala, was acquired by the Harmony Company of Chicago, Illinois in 1939.
Pictured above we see a
1930s Stella parlour guitar in a rare crytalline blue finish
, created using "a technique that has been lost with time". Finishes were more commonly black, natural or sunburst. This is one of the later Oscar Schmidt Stellas and pre-dates the Harmony takeover.
Unfortunately, this particular example is not in very good condition and would require the attention of a luthier to make it playable.
G L Wilson
© 2011, Guitarz - The Original Guitar Blog - now in its 10th year!