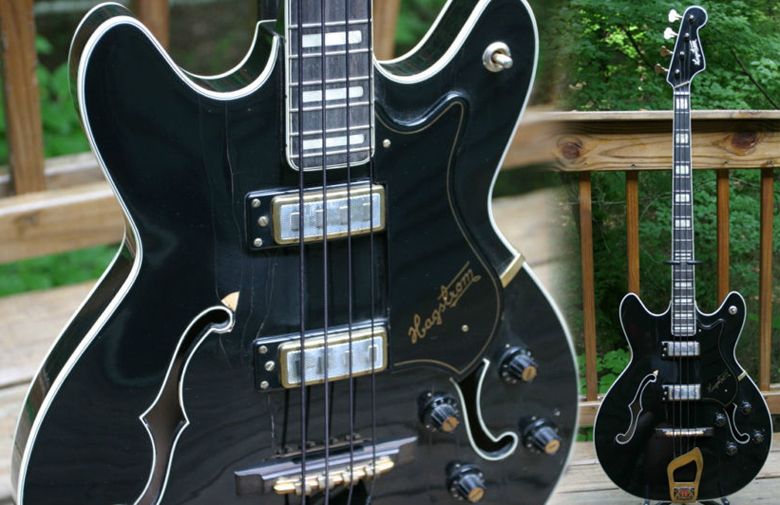 One of the guitars on my own fantasy "wants" list is a vintage Hagström Viking with Strat-style headstock and preferably finished in red just like the one that Elvis used in his '68 Comeback Special.
Although finished in black, this
Hagström Concord DeLuxe bass
would make an ideal partner for such a guitar. This model bass was orignally named the Viking, just like its guitar sibling, but for some reason best known to Hagström it was renamed the Concord. There were two models: the C-1 with two single coil pickups, bound (front and back) hollowbody, dot inlays on the neck, and chrome-plated hardware; and the C-2 or DeLuxe - as we see pictured here - with similar attributes as the C-1 but with bound f-holes, bound neck with block inlays on the fingerboard, and gold-plated hardware. The C-1 was in production from 1965-1971 with 2749 examples being built, whereas the DeLuxe version is much rarer having been produced between 1967-1968 with only 150 examples being built.
Interestingly, Hagström listed both models as being available with Mahogany sunburst, Golden mahogany sunburst, and cherry red finishes. No mention is made of black, so possibly the example we see here has been re-finished, or else - as the seller suggests - this is a very rare custom finish making this bass even more unusual.
In 1968 the DeLuxe would have cost $435 (against the C-1's $285). Now in 2011, the above-pictured example is currently being auctioned on eBay and the bidding is currently (as I type this) at the 1968 price for the C-1 model, although there is a a reserve that hasn't yet been met. It'll be interesting to see what this sells for.
G L Wilson
© 2011, Guitarz - The Original Guitar Blog - now in its 10th year!