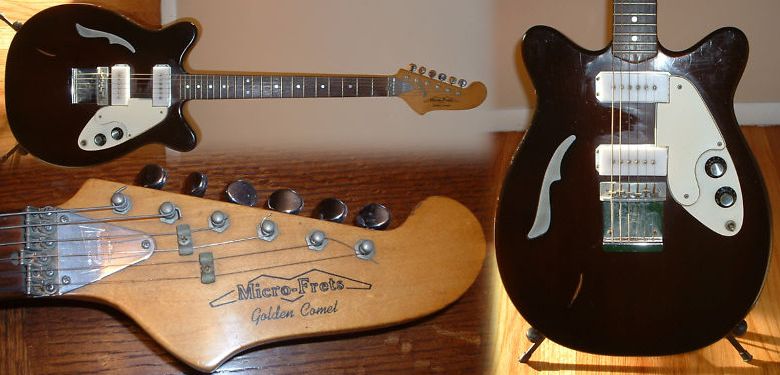 Micro-Frets Inc was founded in the 1960s by Ralph Jones, a man of a keen engineering persuasion given to innovation and invention. One such Micro-Frets' innovation was the Micro-Nut, as seen clearly in the photo above, which was essentially a fully adjustable compensating nut allowing for perfect intonation and the ability to have the guitar play in tune all the way up the neck. Remember, this was decades before Earvana or Buzz Feiten.
The above-pictured guitar is a
Micro-Frets Golden Comet
(Micro-Frets often had space-age names). This is quite a basic model without the Micro-Frets Calibrato (a vibrato which allowed the strings to stay in tune relatively while the pitch was being altered) but nevertheless is still a much desirable model. It is of semi-hollow body construction with distinctively shaped f-hole and features pickups desgined by Bill Lawrence and which look decidedly P90-like.
This Golden Comet is currently being auctioned on eBay with the starting price set at a quite reasonable $500.
For more about Micro-Frets guitars see their official website at:
www.microfrets.com
G L Wilson
© 2011, Guitarz - The Original Guitar Blog - now in its 10th year!