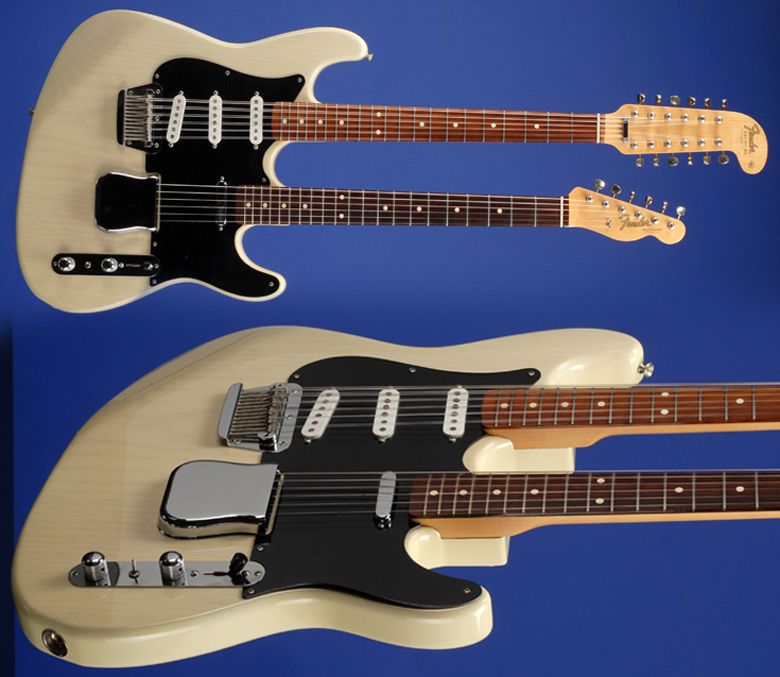 Fender, unlike that other American giant of guitar manufacturing Gibson, have never issued a doubleneck production model guitar (not counting, of course, lap steels and console guitars before some smart alec points it out). However, their Custom Shop have made one-off doublenecks in various combinations to meet individual customer requirements. Here we see listed on
Vintage & Rare
a so-called
Fender Telecaster / Electric XII doubleneck
. To quote from the blurb on Vintage & Rare:
This unique double-neck Telecaster / Electric XII weighs 13.40 lbs. and is a one-of-a-kind instrument specially designed and built by Master luthier Fred Stuart in late 1991 (completed in January 1992). The guitar features a beautiful asymmetrical double-cut, one-piece see-thru blond light-ash body with wonderful bluish 'veins' showing through. On the Telecaster side, rounded edges on the back and on the Electric XII, a contoured edge on the bass side, so that the body contours reflect the half of the instrument they represent. Both of the necks are hand-carved from solid lightly-figured maple and have 'slab' rosewood fretboards (the Tele fretboard is dark rosewood, the Electric XII fretboard is a lighter shade. The Telecaster neck has a wonderfully thin-to-medium profile (similar to a '66) and a nut width of just under 1 11/16 inches. The Electric XII neck has a very comfortable medium profile and a nut width of just under 1 11/16 inches. Both have a scale length of 25 1/2 inches and 21 medium frets with white dot position markers. The Telecaster headstock has the Fender mid-sixties "Transition" logo in gold with black trim with "Telecaster" and "Pat 2,573,254 3,143,028" The Electric XII "hockey-stick" headstock also has the Fender "Transition" logo in gold with black trim "Electric XII" and "Pat 3.143,028 2,960,900 3,177,283 & Pat Pend."
I quite surprised that the word "Stratocaster" doesn't get mentioned anywhere, for surely the "Electric XII" half of the guitar is itself a hybrid between an Electric XII and a Stratocaster. Certainly, the upper body shape, pickguard shape, and three singlecoil pickups in the legendary Strat layout all scream "STRATOCASTER"! Nevertheless, it is an interesting piece, and is not a combination that I have seen before from the Fender Custom Shop. It's only really the "hockey stick"-headstocked neck that is in any way reminiscent of the Fender Electric XII.
This guitar is available via
Vintage & Rare
priced at €12822.
G L Wilson
© 2011, Guitarz - The Original Guitar Blog - now in its 10th year!