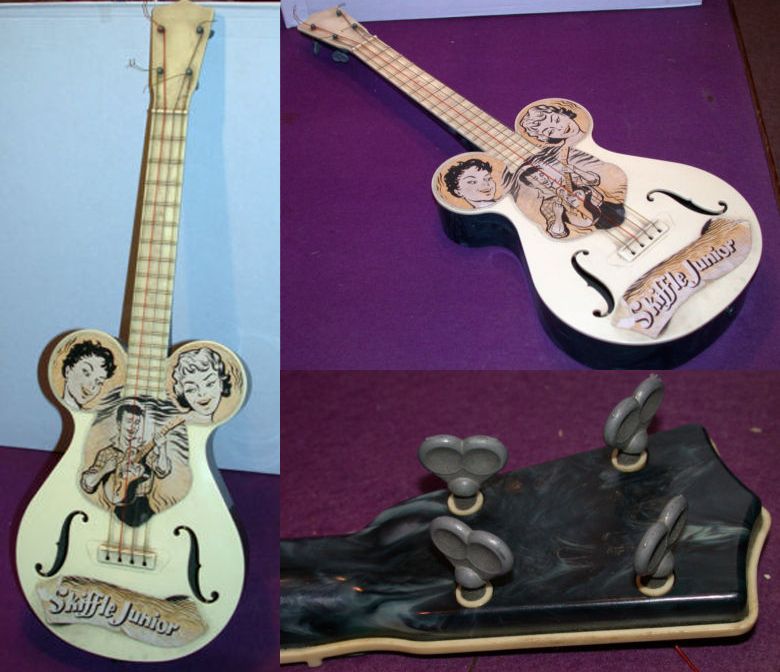 In a weird piece of synchronicity, after posting about the
Mickey Mouse guitar
yesterday and linking to a previous
Guitarz
post about the
Mickey Mouse club Mousegetar
, I found the above-pictured
Selco Skiffle Junior plastic toy guitar
(or maybe its a ukulele) on eBay UK - the design of which has been borrowed from the Mousegetar. I'm thinking that the Skiffle Junior was originally intended as a plastic Mousegetar - look closely at the design - you can still see the outline of Mickey Mouse's face. Note also that the tuning pegs resemeble Mickey Mouse ears.
The Skiffle Junior dates from 1956. Perhaps they were just going along with the current trends. To begin with Disney was popular, then the Skiffle craze came in and so they altered the design. A few years later they would issue the more famous Selco Beatles plastic guitar.
Currently listed on eBay UK with a starting price of £45.
G L Wilson
© 2011, Guitarz - The Original Guitar Blog - now in its 10th year!