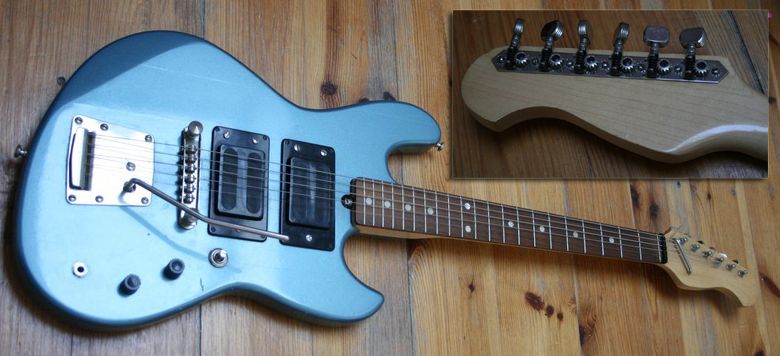 There's a lovely
Jolana Proxima
being offered for sale on eBay UK with bidding currently at £65 at the time of writing. I'd dearly like to join in the bidding myself, but do not have the funds (nor the space) available right at the moment. The
Proxima
, made in Czechosolvakia in the 1980s, is a close relative to the
Jolana Galaxis
guitar which had pickups and controls front-mounted on a pickguard, Strat-style.
The guitar appears to be in excellent condition, although strangely the Proxima logo is missing from the headstock. Pickups are a pair of huge humbuckers, identical to the single unit on my
Jolana Disco
. The chunky machine head buttons are another item these guitars have in common. The tremolo/vibrato is of the Jazzmaster persuasion, which I guess is in keeping with the Proxima's offset body design.
Thanks to Alex for bringing this guitar to my attention.
G L Wilson
© 2011, Guitarz - The Original Guitar Blog - now in its 10th year!