This
Carvin doubleneck 12+6 guitar
was, until very recently, the property of
Guitarz
reader Derek; he sold it on
eBay
just this last week. He comments:
This is a early 90s Carvin doubleneck. It is, as far as I know, the only 6/12 that has the tuners on the 12 string neck inline. It makes for a very weird looking headstock... it looks more like a shovel.

It appears to be the same as the guitar on this catalog page from 1990.

The 12 inline was a option, the 6+6 was standard. The microswitch is the neck selector.

It's very heavy. The neck feels like a cross between an Ibanez RG and a Jackson; it's very thin, flat and wide. It is very much in keeping with the Superstrat/shred guitar design (other than the lack of a Kahler or Floyd). It's well made just like any other Carvin I've run across, but offers little in the way of new ideas. It looks and feels very late 80s if that makes sense.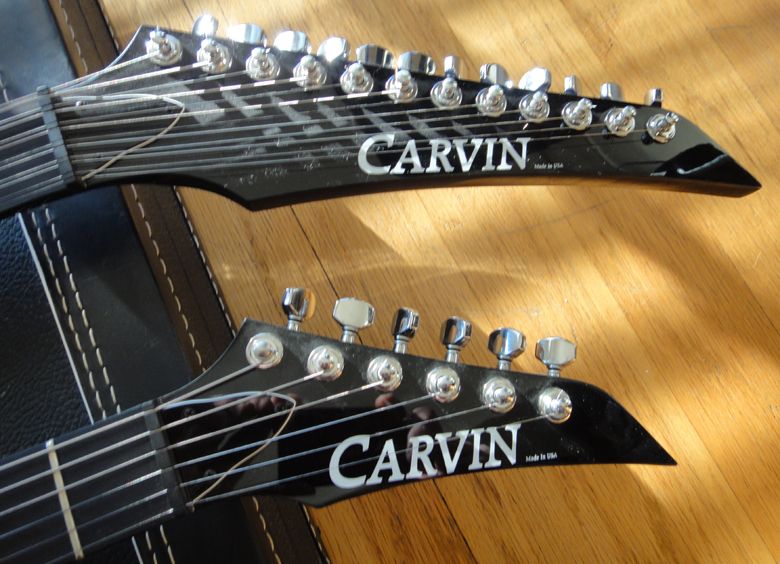 Thanks for showing us that beast, Derek. I can imagine I'd get into all sorts of tuning difficulties with a 12-string headstock like that. I often seem to go for the wrong tuner even on a regular 6-string 3+3 headstock. Still, in an on-stage situation, I guess that's what guitar techs are for.
G L Wilson
© 2012, Guitarz - The Original Guitar Blog - now in its 10th year!