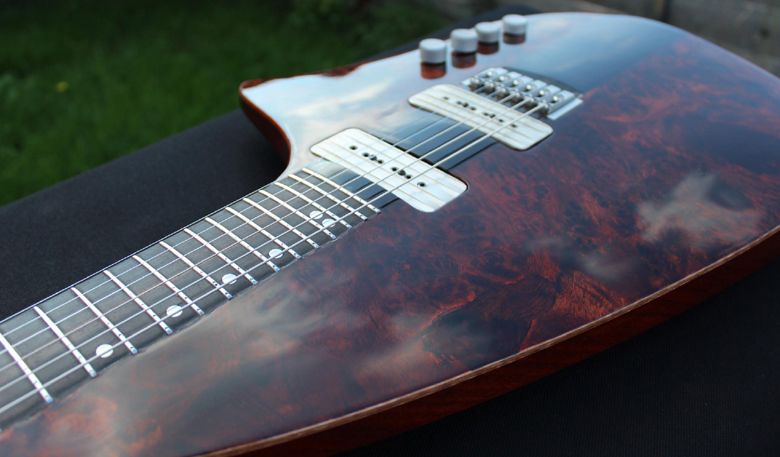 For years now I have been an avid follower of the
Crimson Guitars Workshop Diaries
, religiously updated by luthier Ben Crowe of UK-based Crimson Guitars. Considering the incredible detailed hard work he puts in to each and every guitar, I am amazed he seems to be able to document everything he does. Previously on
Guitarz
, back in 2010, we looked at a
Crimson 8-string fanned-fret guitar
. I also included two of his guitars in the
500 Guitars
book - alas the publisher only used a photo for one of them.
For anyone with even a passing interest in how a guitar is built, I cannot recommend the workshop diaries highly enough: they provide a fascinating - and
never
boring - blow-by-blow account of each and every aspect. They also show Ben Crowe to be a fastidious luthier; he really is a perfectionist and will insist on getting every last tiny detail absolutely right. As well as building complete guitars by hand from all manner of beautiful timbers - and occasionally he's carved guitars from acrylic too - Ben will also often create the hardware - bridges, tremolos, tuners, control knobs - by hand in the Crimson Guitars workshop rather than using generic off-the-shelf components. Ben is also a keen advocate of ergonomic guitars. Even his classic-looking Robert Fripp model single cutaway guitars (yes, Robert Fripp is an endorsee) have beautifully carved rear-sides, all in the name of comfort! You don't get
that
on a Les Paul!

The guitar pictured here, the
Delta 1
, is - as you may surmise from the shape - an ergonomic design. It was the brainchild of the customer, James Mitchell, who worked with Ben Crowe in the Crimson Guitars workshop upon his own design in the early stages of the guitar build, leaving Ben to complete and finish the instrument when he had to return home.
I asked James if he could tell me what his original brief for the Delta 1 was, and the general concept behind it. James kindly replied, in detail, as follows:
I have always had a 70s Strat which I love and I had never really owned or played anything else. A work colleague, Kevin Deane, makes guitars just for himself for the look and the pleasure. So it got me thinking, why have another Strat or Les Paul? I had recently come into a few guitars which all had features I really liked but none had everything. So, as an architect, I couldn't resist but doodle. There is a tendency for custom guitars to be over-wrought or gilded lilies in my view. I wanted something purposeful, sleek and unique to me.
I overlaid pictures of guitars I enjoyed playing and made hand sketches combining the elements, from each marque, that felt best to me. I then started to read a bit about construction and tone. Around this time, I went to London for Chapman Stick lessons. Out of that, came a conversation with Paul Davies of Tollbooth Studios, who said there was this guy who would build anything. I had approached other builders and they kept re-interpreting the design back towards a known design and would put it together from stock parts. Now, even I can bolt bits together, so I was underwhelmed. The other path of a bespoke instrument prototype was looking very very costly.

The key features of my design where to keep it simple and incorporate:


A longer scale length for tone and I am 6'6'' so something at my scale. Les Pauls are mandolins to me and my chubby fingers have trouble above fret 15.
Through neck construction for tone transfer.
Tight radius fretboard at nut and 700mm radius at the intonation point, reflecting my strat but slightly flattened like a Parker.
A "D" neck profile.
Quite a bit of body beyond the bridge for my arm, balance and as a tone reservoir.
Flush neck and body with same radii.
Parkeresque slimness.
Full 24 fret access like a Stick.
A tone transfer bar reaching up to twelth fret, like a Skjold bass.
A headstock without fripperies, like a Seagull guitar but less shapely. I considered headless but it seemed counter intuitive to me.

I liked the tuners on a Japanese shamisen and thought something like that could be achieved. Ben turned bespoke parts for the Sperzels.

These disparate thoughts were worked through in sketches and 5 or 6 full size blanks from polystyrene and filler. I then made the final sketch, measured drawings and a 3D-rendered computer model and sent these to Ben as a brief.

We kicked the details around for three months exploring ideas for a full contact tremolo, woods, frets, pickups etc. In the end it worked out I could go meet Ben and stay for two weeks to develop the build with him. I don't think it could have been done remotely really because the dialogue between us was very dynamic and fruitful. I had a good grasp of what I wanted but Ben brought the reality and craftsmanship to examine, interpret and realise my thoughts, to create the final guitar. Working on the guitar with Ben also allowed me to see other possibilities. This was so successful I have asked Ben to make a semi-acoustic version. This time he knows where it's headed and I await something based on Delta 1 yet distinctly different.

Some have pointed out it is Teufell Tesla-esque, which I take as a compliment, considering it's my first design. It owes more to the Chapman Stick, Breadwinner and Parker/Strat. The controls have evolved since I have had the guitar to play. Andy at Wizard Pickups made 2 bespoke match P90s to work with Ben's stunning bespoke pickup covers and not produce hum. I have fitted 2 volume pots, 1 tone pot and a blender. The guitar produces a lot of rich tones and the blender allows me to exploit the all the gradients of tone between bridge and neck.

I would say that this is where Ben's unique selling point lies. With so much CNC'd or assembled from parts suppliers it's a precious thing to find someone who will start from scratch. Ben buys and selects timbers just for the instrument qualities you specify. The construction then is further informed by his knowledge and your aspirations. Start off with an idea, informed as best it can be from a player's perspective, then brought to reality through real craftsmanship. Exciting and the result is an instrument that is everything I wanted it to be and having other characteristics that couldn't be known. So now I have something to play and explore with.
I have been asking proper guitarists to try it out, mainly at my local music store, KnB Music Maynooth. So far, very positive results. Some are freaked by the shape or the flush neck and body. But once they have 5 minutes playing that all fades away and the balance, playability, comfort and the tone come through.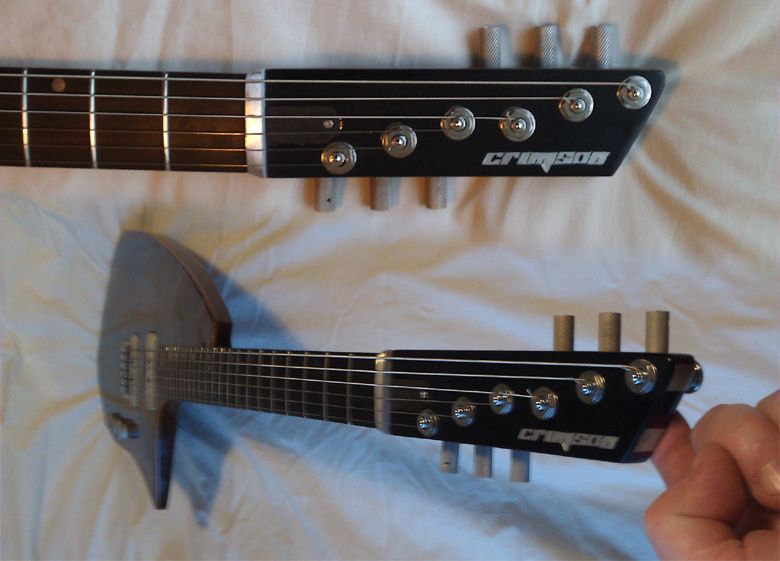 For even more details, check out these YouTube videos produced by Crimson Guitars:
I would like to thank both Ben Crowe of Crimson Guitars and James Mitchell for their cooperation and help in producing this blog post.
For more information, see
Crimson Guitars
- bookmark it and visit often!
G L Wilson
© 2012, Guitarz - The Original Guitar Blog - now in its 10th year!