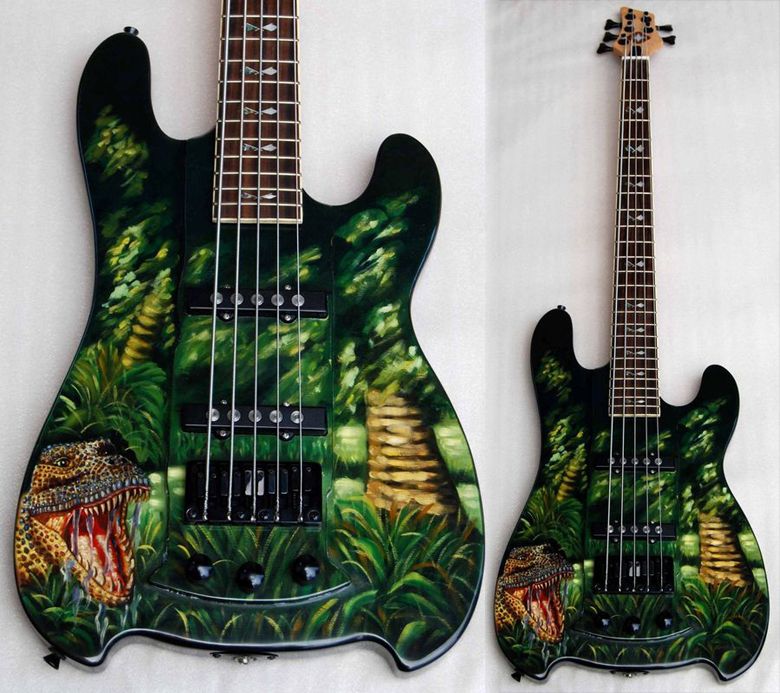 Here at
Guitarz
we've looked - and laughed - at Vietnamese maker
Antoniotsai
's guitars before (see
here
,
here
and
here
), and whilst this
Dinosaur 5-string bass
is quite tame compared to some of their other creations, it's still pretty dreadful. Not only is the dinosaur oil painting rather inexpertly realised (and let's face it, if you've absolutely got to have a Tyrannosaurus Rex on your guitar, then you'd want it as BIG and BOLD as possible, and not merely a head creeping into the bottom left-hand corner of the picture) but also look closely at the woodwork which appears irregular and wonky, as if very crudely cut out by hand.
One very strange feature is the position of the control knobs and output jack, slap bang in the middle of the body behind the bridge. One might argue that this would make the bass more readily adaptable for left-handed players, which I would understand if it didn't have Precision-esque offset body horns.
Currently listed on eBay with a starting bid of $0.99.
G L Wilson
© 2012, Guitarz - The Original Guitar Blog - now in its 10th year!