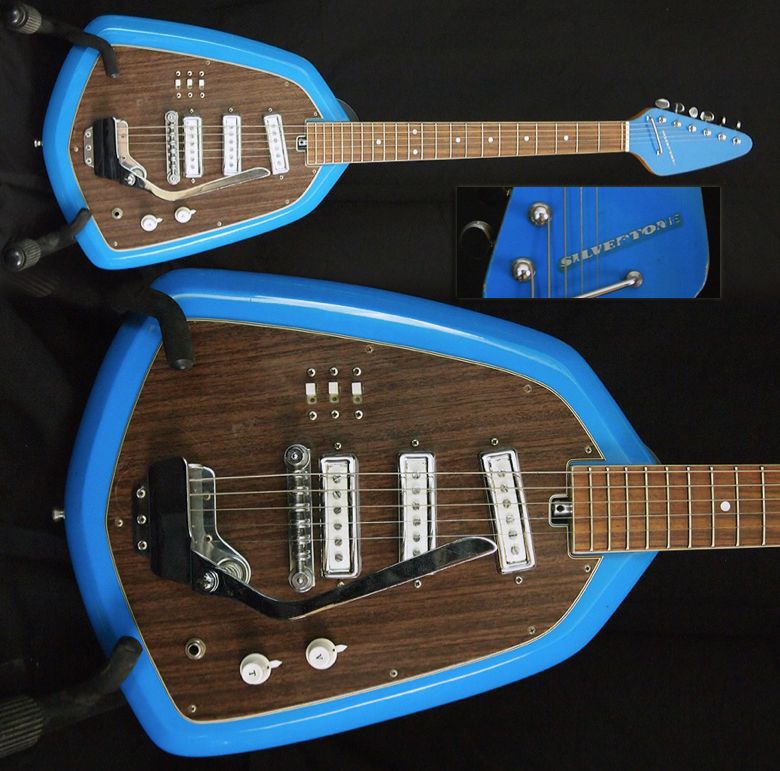 We seem to be in a blue mood these last couple of days on
Guitarz
, and today's guitar is a 1960s
Silvertone-branded "Phantom"
which according to the seller is correctly designated as a EV3T. It's obviously inspired by the 1960s Vox guitars - as is further evidenced by the headstock shape - but the body shape is symmetrical as opposed to the offset lozenge of the Vox Phantom. If anything, it's somewhere between a Phantom and Vox's Mark series teardrop-shaped guitars.
As with anything stamped "Silvertone", you can guarantee this is another manufacturer's guitar, re-badged. It has a Domino look to it, although I don't think I've seen a Domino of quite the same design. The neck bolt plate confirms that this guitar is "Made in Japan".
This guitar is currently listed on eBay with what I'd call a slightly optimistic Buy It Now price of $975.
G L Wilson
© 2012, Guitarz - The Original Guitar Blog - now in its 10th year!