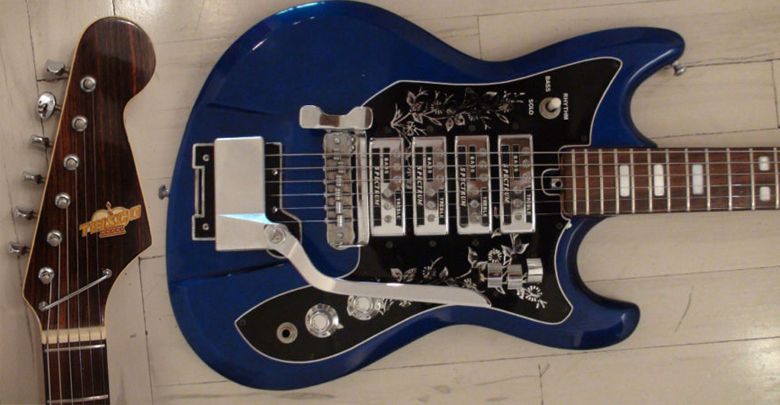 Whilst this 1968
Teisco ET-440 a.k.a. Spectrum 4
isn't quite in the same league as the then top of the range
Spectrum 5
, it's still a guitar that is worthy of being included here on these pages as another desireable albeit quirky example of the 1960s Japanese guitar-making.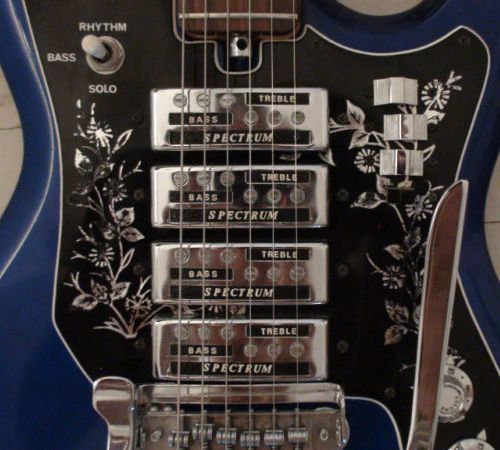 A couple of interesting features are the four pickups, each marked with the Spectrum legend plus "Bass" and "Treble" alongside the respective group of three polepieces, and the trem-equipped bridge which comes complete with a mute bar, which is especially useful for surf-type sounds.
I'm a little perplexed at how the four pickups are selected, as there appear to be three individual ON/OFF switches, plus a 3-way(?) toggle marked RHYTHM, SOLO and BASS. Can anyone enlighten us further about how these operated? [
Edit
: looking closer to the photo, there appears to be FOUR on/off switches but one is missing its cover].
As was common with Japanese guitars from this era, the neck is made up from multiple laminates similar to that on the
Bruno Bass
that David took a look at recently and questioned if it could have been made from bamboo. (We don't think so, but it
does
look bamboo-like).
G L Wilson
© 2011, Guitarz - The Original Guitar Blog - now in its 10th year!