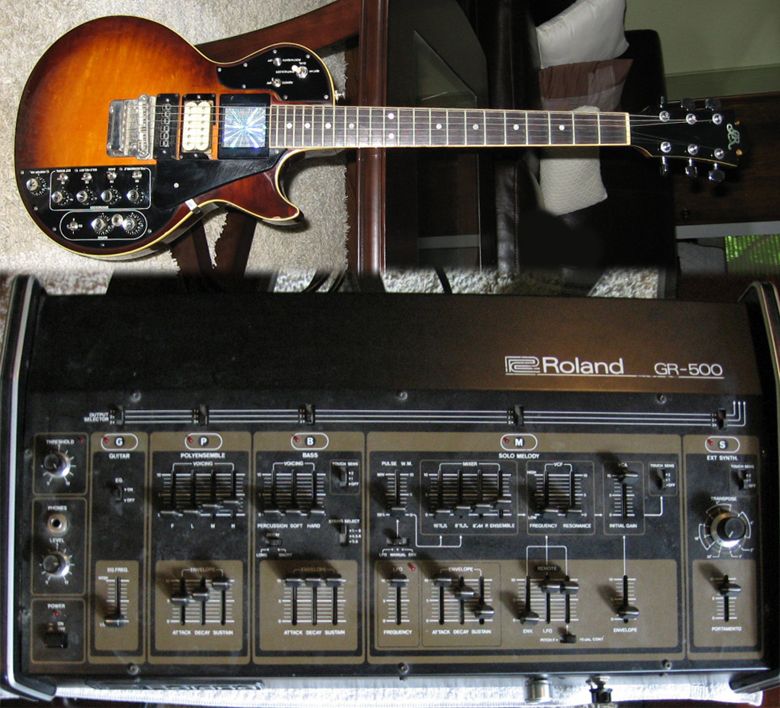 Often incorrectly cited as the "world's first guitar synth" (it wasn't - the
Innovex "Condor GMS"
system predates it by seven years), the
Roland GR500 guitar synth and GS500 guitar controller
was certainly a first for Roland. The synth module "was a simple analog affair with Bass, Solo Synth, and String sounds based on previous Orchestral and analog mono-synths from Roland" (see
VintageSynth.com
). It was my understanding that the pre-MIDI era synth used some kind of 5-note polyphony (I know, weird on a 6-string guitar!) which unfortunately was not known to function fantastically in practice.
The guitar controller itself was, I believe, built for Roland by Ibanez (but feel free to correct me via the comments section below). On the example pictured, the original guitar humbucking pickup has been replaced by an open coil unit. Note the hex pickup (essentially a housing containing individual pickups for each of the strings) which is situated between the guitar pickup and the bridge. There is no neck pickup. These Roland guitars have this strange black plate in the neck pickup position (covered in this instance by a hologram) which looks like it
ought
to have some purpose but probably doesn't. I wonder if it was just to conceal a pickup hole that had been drilled before the Les Paul style body was destined by become a guitar synth controller.
It's not too often that these guitar and synth units come up for sale together. (There was very recently a GS500 guitar in original condition up for sale on eBay but alas it was without the synth unit).
This guitar and synth pair is currently being offered for sale on eBay with a starting price of $1,050
. It's an interesting museum piece, but a cumbersome piece of kit, and it's not going to be especially useful for the guitarist interested in playing guitar synth, unless they are more or less content with producing simple sound effects.
For guitar and/or synthesiser historians only!
G L Wilson
© 2011, Guitarz - The Original Guitar Blog - now in its 10th year!