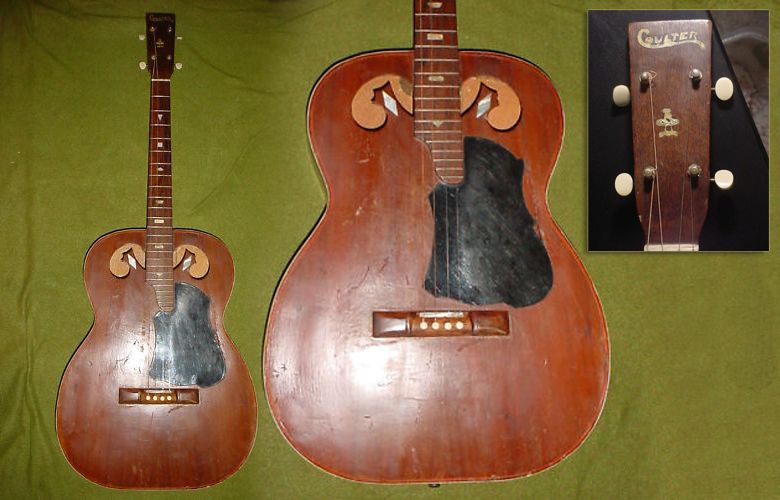 This
Coulter tenor guitar
, which the ebay seller tells us is from the 1930s and "plays great", is currently being auctioned with a starting bid of $699.99. Coulter is a name I haven't previously been aware of. The name on the headstock does look as if it has been painted on freehand; maybe it's been "re-touched" by someone at some stage in the guitar's life. The seller tells us that:
This guitar was built in Portland, OR, in the early part of the 1900s. F.E. Coulter was active from 1910 into the 1930s. Coulter built guitars, banjos, violins and mandolins, all of which featured his unique design sense.There are mother of pearl inlays on the neck, body and heel of the neck as as seen in the pictures. This guitar is very lightweight and loud. Not sure what woods were used, but I believe the top is redwood. There have been extensive repairs done by a local (Portland) luthier. All cracks and gaps have been sealed and braced and all the interior bracing has been repaired. The neck shows a bit of bowing, as should be expected, but is well attached to the body and not pulled in. More cosmetic restoration could be done, but I leave that up to the digression of the buyer. For more on F. E. Coulter check this link for a WPA Writers Project interview with the builder: http://freepages.genealogy.rootsweb.ancestry.com/~janeha/fcoulter-folklore.html
I have to say that those weird kidney-shaped soundholes are about the ugliest I have ever seen.
G L Wilson
© 2011, Guitarz - The Original Guitar Blog - now in its 10th year!