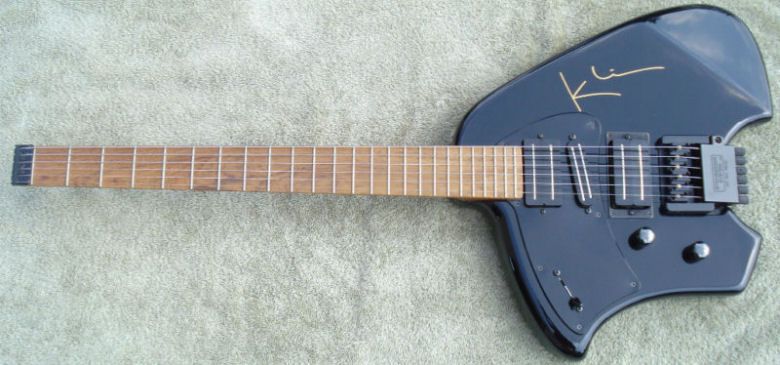 Steve Klein's guitar creations are almost legendary. He set the benchmark for those wishing to create the perfect ergonomic guitar. The original Klein guitar, as pictured here, has been out of production for a number of years now, and is quite a sought-after instrument. Existing examples can exchange hands for thousands of dollars. For example, this rare
left-handed Klein BF-96
is currently being offered for sale on eBay with a Buy It Now price of $8000. Meanwhile, other luthiers interested in ergonomics - both amateur hobbyist and professional - have taken the Klein design as a starting point for their own guitars.
Of course, the Klein isn't completely innovative. It has been pointed out that the design owes more than just a little to the Ovation Breadwinner. The other inspiration was, obviously, the headless Steinberger. Early Kleins used Steinberger necks, and all use the bridge/tuners.
In more recent years
Steve Klein
has turned his attentions to producing boutique acoustic guitars.
G L Wilson
Guitarz - The Original Guitar Blog - now in its 10th year!