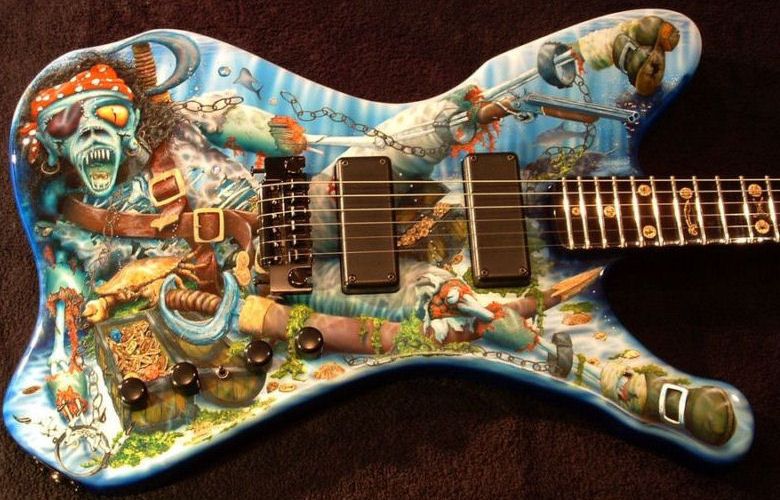 Just looking at this creation from Leverty Guitars, I am lost for words!
In which case I shall borrow from the
eBay listing
:
The 'Guardian Guitar' is an in house and totally one off 'Leverty Custom Guitars' project, built by Dick Levens, and custom painted and finished by me (Jim Fogarty). Our one aim when the original idea for this guitar was conceived back in early 2001, was to build the 'ultimate' totally hand crafted custom guitar, featuring and incorporating seriously detailed artwork into the overall design, finished perfectly and using only the very best of materials and electrics in the build.

The 'Guardian Guitar' for sale here was the end result completed in late 2008.

The body of the guitar is mahogany, the neck is of one piece construction with an ebony fingerboard. Fingerboard markers are finely etched in 22 carat gold leaf, all individually worked and lacquered in (though you'll need a jewellers eyepiece to see the finer details). The pick ups are 'one off' custom Kent Armstrong humbuckers, designed and made specifically for this guitar.

The electrics were very much based on the setup of one of Jimmy Pages' guitars, with a three way selector switch controlling the two pickups and separate tone and volume controls for both bridge and neck pickups. The volume controls giving the option of single coil operation for each pickup, the bridge tone pot also giving the option of reverse phase. The neck tone pot giving the option of running the neck pickup in series with bridge pickup.

This guitar is most definitely a complete 'one off'. It could never and will never be repeated. The painting process was finally finished in October 2008 after literally hundreds of hours of painstaking and finely detailed work. The artwork applied to the both the front and the back of the guitar, the back of the neck and the headstock genuinely need's to be seen to be fully appreciated. The artwork on this guitar is extreme, the detail almost ridiculous.
Jim Fogarty has documented the whole artwork process
here on his website
(info via
Guitar Noize
- I knew I'd seen it somewhere before!)
See also
Dick Levens' website
.
G L Wilson
Guitarz - The Original Guitar Blog - now in its 9th year!