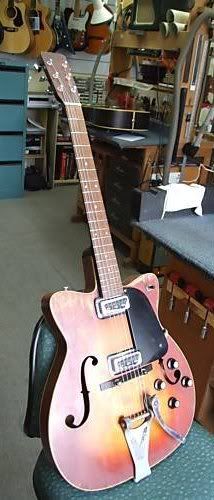 Here's one you don't see too often. It's an electric guitar, albeit a semi-acoustic, from C.F. Martin & Co.

This particular model is a 1965 Martin F-65 and is described as having "survived 40 years in an outback Australian farming shed".

The seller says that "it looks like a dog, but plays really well...", and I think it looks absolutely fantastic, but unfortunately can only imagine how it would play. In this day and age of artifically reliced guitars - new guitars made to look like old and battered vintage guitars - it's great to see an instrument like this bearing the marks of genuine usage and aging.