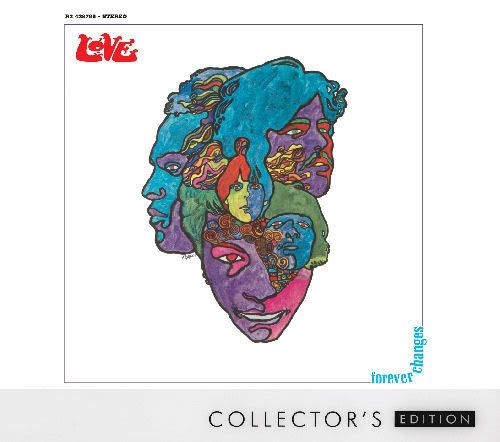 CD Review: Love - Forever Changes (2 Disc Collector's Edition)
I've been meaning to review this CD for about a month or so now, but somehow procrastination has been getting the better of me. It shouldn't be a difficult CD for me to review because it is one of my very favourite albums of all time, albeit it in a sumptuous new Collector's Edition with bonus tracks and alternate mixes. As this album has been around since 1967, I guess that me being slightly late in reviewing this edition doesn't really matter that much. It's one of those records that's just not going to go away and be forgotten in five minutes.
Of all the fantastic albums to have come out of the 1960s, you can forget The Beatles, The Stones, The Who, Hendrix, The Kinks and everyone else. My absolute favourite is "Forever Changes" by
Love
, the band fronted by the now legendary Arthur Lee. Love were not only contemporaries and label mates of The Doors, but they were also the ones who introduced Jim Morrison
et al
to the Elektra Records founder Jaz Holzman. The cruel irony was, of course, that The Doors surpassed Love in terms of both record company support and commercial success. Personally, I'd take Love over The Doors any day of the week.
I'm not going to do a track by track breakdown of this album. It's actually one of those records where I don't even know the titles of each and every track without looking at the sleeve, but I do know every note of it because the record is so ingrained into my consciousness. For me, it works beautifully as a whole, and in a way this release is an improvement on the 2001's Remastered and Expanded edition because the eleven songs making up the original album are kept intact on one disc of their own, whilst all the extraneous alternate stuff, studio outtakes, bonus tracks and the like are on a second disc rather than being tacked on the end and so spoiling the integrity of the album proper.
The songs are a glorious mix of acoustic psychedelia, garage rock, baroque pop and poetry. The song arrangements are adventurous, not following any predictable verse, chorus, verse, chorus, middle eight, verse, chorus structure. They twist and turn and sometimes shoot off into unexpected directions. These are intelligent, grown-up compositions, and could go some way to explaining "Forever Changes"' enduring longevity. It still sounds as fresh as ever, as anyone who caught Arthur Lee's Love (a new line-up of the band which he toured with before his sad death in 2006) performing the album in its entirety a few years back should be able to atest.
Lyrically, it's very interesting too, but I'm not going to pretend that I know what the songs are about. The liner notes, among other sources that you may care to seek out, give some insights into the lyrics but ultimately
it doesn't matter
. In some ways not knowing what it's all about make these songs all the more fascinating and magical. Where else would you hear a song that begins with such surreal imagery as "
Oh, the snot has caked against my pants / It's turned into Crystal / There's a bluebird sitting on a branch / I guess I'll take my pistol..."
("Live and Let Live")?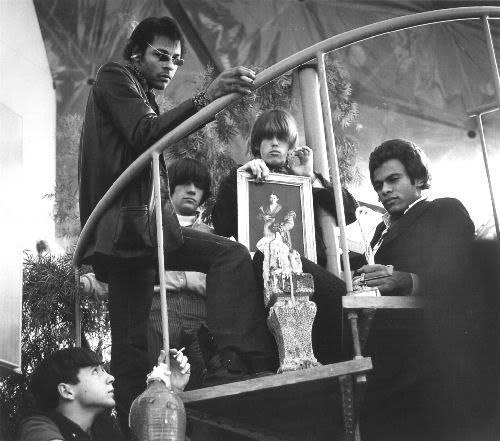 I also love that this is an album absolutely drenched in acoustic guitars, without being - horror of horrors - a folk album. There's the odd electric for solo work, but the acoustic is the workhorse here. Nowhere does it sound better to my ears, than on the opening cut, the very beautiful "Alone Again Or" - one of only two songs on the album penned by Love guitarist Bryan MacLean, the other nine being Arthur Lee's. That song is a favourite of mine and one that I personally toiled over for many hours trying to learn to play (I actually found the basic chord structure in a book of songs by The Damned, who covered the song in the mid 1980s. I had to work out the more intricate intro part by ear. Here's a tip, folks, this song sounds amazing played on baritone ukulele). It's still a song that I often play through to myself on picking up a guitar. Any guitar. I just love it.
The album closer, "You Set The Scene", couldn't be more perfect. It's a complete symphony inside a pop song and proof that complex but exquisite song arrangements did not start with Queen's "Bohemian Rhapsody" in 1975.
Disc 2 of this Collector's Edition contains the whole album, again, but here in an alternate mix that was, I suppose, rejected for release way back. To be honest, for the average listener, these bonus tracks are superfluous and won't really add anything to your enjoyment of the record. To the fanatic, they are intriguing, but you'll need to listen closely to detect differences in the mix. The most obvious give-aways that it isn't the regular edition are that a couple of the songs start or finish slightly differently. ("Old Man" has a spoken count-in, for instance. So what?) In the album notes Arthur Lee is quoted saying how he hadn't remembered doing a rap at the end of the alternate take of "You Set The Scene". I have to confess that I didn't even notice it, despite having read the sleeve notes before listening for the first time.
The other bonus material is nearly almost the same as that that appeared on the previously issued single disc Remastered and Expanded edition of "Forever Changes", so if you've already got that CD then probably you won't benefit a great deal from this latest reissue. There are a couple of outtakes, an instrumental demo called "Hummingbirds" (which later, with lyrics, became "The Good Humor Man He Sees Everything Like This"), a mono mix of "Alone Again Or" (so that song, as good as it is, appears
three times
on this release), and also - as on the previous release - we have the both sides of a single not included on the original album, "Your Mind And We Belong Together" and "Laughter Stock" both of which are pretty damn good. For the former, we are first of all treated to "Tracking Sessions Highlights", which give a fly-on-the-wall insight into the recording process, before hearing the result on the following track (listen out for a fantastic guitar solo, guitar fans!). The tracking sessions are definitely something that is far better off being placed on a second disc and not grouped together with the album proper, because despite it being very interesting and entertaining listening, it doesn't really bear very many repeated listenings. It is very funny, however, especially when Arthur Lee chides lead guitarist Johnny Echols about his guitar solo, "
Echols, maaaan, I don't understand your trip, man... You stay in one range of the guitar throughout the whole thing, man. You're the one who says you can blow in the studio; nobody to bug you. You gotta blow, man!
".
To summarize, I love - no pun intended - this album. It's definitely one to take to the desert island (although I think we're only allowed to take one-sided singles, if I remember the rules of the game). However, if you already have a copy of 2001's single disc Remastered and Expanded edition, you might not want to bother with this unless you are really desperate to hear the alternate mixes and a bizarre studio outtake of "Woolly Bully". For anyone who doesn't already have this in their collection, and thinks they may enjoy some 1967 era psychedelic garage rock baroque pop protopunk, then go for it. It's a glorious album!
Disc: 1
1. Alone Again Or
2. A House Is Not A Motel
3. Andmoreagain
4. Daily Planet
5. Old Man
6. The Red Telephone
7. Maybe The People Would Be The Times Or Between Clark And Hilldale
8. Live And Let Live
9. The Good Humor Man He Sees Everything Like This
10. Bummer In The Summer
11. You Set The Scene
Disc: 2
1. Alone Again Or (Alternate Mix)
2. A House Is Not A Motel (Alternate Mix)
3. Andmoreagain (Alternate Mix)
4. Daily Planet (Alternate Mix)
5. Old Man (Alternate Mix)
6. The Red Telephone (Alternate Mix)
7. Maybe The People Would Be The Times Or Between Clark And Hilldale (Alternate Mix)
8. Live And Let Live (Alternate Mix)
9. The Good Humor Man He Sees Everything Like This (Alternate Mix)
10. Bummer In The Summer (Alternate Mix)
11. You Set The Scene (Altenate Mix)
12. Wonder People (I Do Wonder) (Outtake - Original Mix)
13. Hummingbirds (Demo)
14. A House Is Not A Motel (Backing Track)
15. Andmoreagain (Alternate Electric Backing Track)
16. The Red Telephone (Tracking Sessions Highlights)
17. Woolly Bully (Outtake)
18. Alone Again Or (Mono Single Remix)
19. Your Mind And We Belong Together (Tracking Session highlights)
20. Your Mind And We Belong Together
21. Laughing Stock
Buy it here!