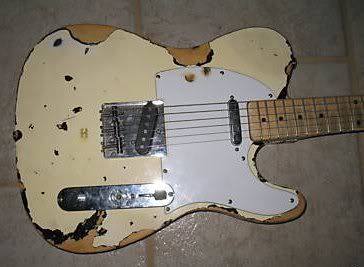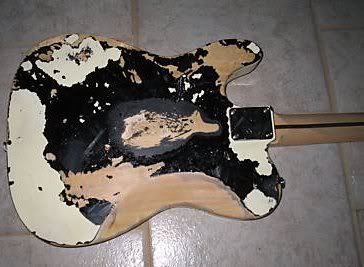 The creator of this sorry-looking
Telecaster
("
I got the parts for it and put it together
") claims that it plays better than a $3,500 Fender Custom Shop Relic Telecaster. I'm sure the Fender wouldn't look as much of a dog's dinner as this mess.
This is the problem with DIY "relic" guitars. The creator usually goes too far. This just doesn't look like genuine wear and tear. It looks like exactly what it is - a guitar that someone has deliberately knocked about and taken a sander to.
The seller also informs us that "
The guitar's neck was sanded down and has a relic coloring from actual sweat
." How, I wonder, did he collect the sweat? Did he carry a bottle and a tube around with him and somehow syphon the sweat into the bottle when working out? Actually, don't answer that. I don't want to know.
For a much more tastefully-realised relic job on a Telecaster, keep checking Cary's
Electric Guitar Review
.