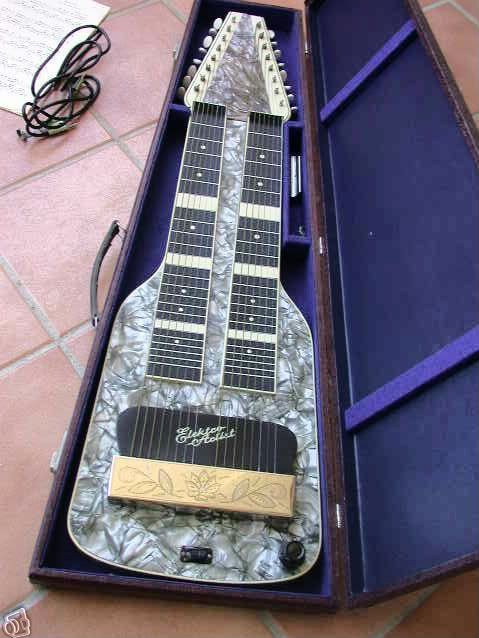 Electro Artist Double Lap Steel
Now here's a whole area of the guitar world about which I know very little: lap steel guitars. Before we go any further, I must stress that I'm not talking about pedal steel guitars - that's a whole other field and a very complicated one with all their pedals and knee levers and so forth. It's a different instrument really.
The lap steel, however, most of us guitarists can relate to, even if it is foreign territory to many of us. It's still usually recognisably a guitar, albeit one that you play in a weird way. Occasionally I find myself looking at lap steels on eBay and thinking, "Yeah, I could play one of those. One of these days, I'll get one..."
I did experiment a while back with an old Teisco guitar on which I raised the nut, tuned to an open chord (D, I think, if I remember) and tried playing it lapstyle with a slide. It sounded
interesting
, but was much harder to play that I imagined it would be.
This
Elektro Artist
looks like a bit of a lapfull! I think I'd want to put legs on that, it's quite a behemoth! It's the lap steel equivalent of the doubleneck guitar, even though it doesn't have "necks" as such. But look at all that mother of toilet seat and 14 strings. Outrageous! The headstock (do they call them "headstocks" on lap steels?) is enormous.
I love looking at pictures of such guitars. They do not all look alike and there are some very interesting and original designs to be seen. Quite a few have an art deco feel to them and look like forgotten relics from the 1940s.
One of these days...