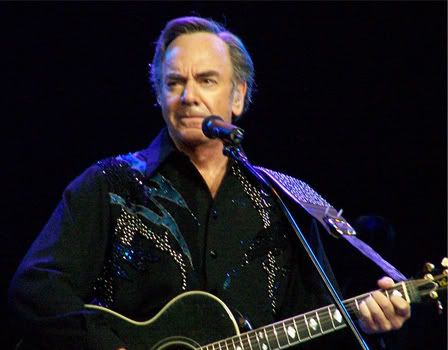 The answer to Friday's Quick Quiz is that the guitar pictured is Neil Diamond's signature series Epiphone SQ-180.

Thursday night I took my parents to see Neil Diamond at the Millenium Stadium, Cardiff, as a 70th birthday present for my father. I grew up listening to Neil Diamond. My father was always playing his records. He espeically liked the start of the "Hot August Night" album and would play it over and over. He confessed to me after the show that he had been worried that Diamond wouldn't be able to cut it any more in a live situation seeing as he is no spring chicken at 67 years old, but he (my father, that is) was very pleasantly proved wrong. Diamond and his band performed for a solid two and a quarter hours and played all the hits and crowd pleasers with gusto (I Am I Said, Play Me, Crunchy Granola, Cherry Cherry, Solitary Man, Sweet Caroline, Song Sung Blue, I'm A Believer, Cracklin' Rosie, etc...). The man can still belt out a tune and what amazed us was that right up until the encore he kept his jacket on; he didn't even break out into a sweat. He's one cool customer, that's for sure.

In the middle of the set he announced he wanted to play a few songs from his current album, and played "Don't Go There", a spellbinding rendition of the title track "Home Before Dark", followed by a Latin-flavoured version of "Pretty Amazing Grace" and then it was back to the hits again. I don't think anyone could have gone away disappointed.