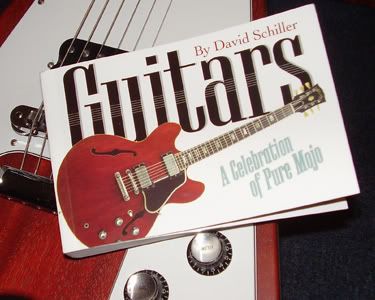 (Workman Publishing, ISBN 978-0-7611-3800-6)
Now I've noticed that a number of the other Guitar Blogs have been reviewing this small tome, but here is my take on it. I've not read any of the other reviews so as not to be influenced.

Anyway, let's begin. This small but perfectly formed book is laid out in a landscape orientation, and the dimensions are postcard size by approx 3 cm thick (520 pages), so it's pocket-sized so long as you have reasonably large pockets.

Now, this book works on a couple of levels. You can, as is the traditional way, start at the beginning and read right through to the end, or - if you are like me - you can dip in and out at various pages at random. The book is absolutely full of full colour pictures of guitars, all beautifully photographed, so it'll even appeal to the lazy amongst you who can't be bothered to read the text, but to do so would be doing the book a disservice as the text is well thought out and informative.

If you are a regular reader of my blog or one or more of the other guitar blogs listed on my blog-roll, then you will love this book as it essentially covers much of the same ground featuring classic guitars, vintage guitars, weird guitars, bizarre guitars, wonderful guitars, etc. Possibly the more rabid shredders may think there are too many acoustics featured, but to get it in perspective the acoustic guitar does have a lot more history than the electric. And anyway, it's all interesting stuff. You may not be into baroque, classical or jazz guitar, but it's all part of the bigger picture, so any prejudices need to be forgotten.

Without wanting to sound arrogant, I thought I was quite well up on all things guitar and had more or less seen it all, but there were plenty of instruments featured in here that were new to me such as the Vivi-Tone electric guitar from 1933, Gibson's sheet metal experimental electric guitar from 1935, the Gretsch Rumba round-bodied acoustic from 1933 (made to appeal to banjo players), among others.

There's plenty in here to fascinate: I particularly like the Stroh guitar with a megaphone horn in place of its body, and the various different styles of harp guitar which never fail to captivate my interest. Willie Nelson's legendary guitar "Trigger" is also a sight to behold!

My only gripe with the book is that some photos are printed over two facing pages - which may look great in the galleys when proofing the book in the production stages - but seeing as the finished book is perfect-bound and about an inch and a quarter thick, you cannot lay the pages flat to view these pictures properly. Not without destroying the book in the process. A whole area in the middle gets lost in the inner curvature of the pages. For example, what would have been a very attractive picture of a 1968 vintage paisley Fender Telecaster (pp. 344-345) is spoilt in this manner.

But that's a minor complaint. This is a perfect book for anyone who loves guitars. I can't praise it any more than that.

One other point, and this isn't a complaint, but merely an observation: there are no bass guitars featured. Could this mean another bass-specific volume will be forthcoming? (I hope so!)

On a final note, I must add that the book comes with the warning that the book may cause G.A.S. (Guitar Acquisition Syndrome). I think I was afflicted before anyway, so I can't blame David Schiller, or Workman Publishing of New York for that.