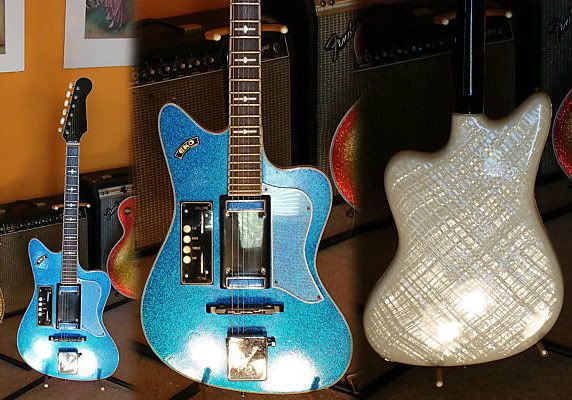 I thought it was about time we featured some more guitar cheese, so here for your viewing pleasure is an Eko 400 Blue Sparkle Resoglas guitar, a model also known as the Eko Master.

There's a strong resemblance to certain pearloid and glitter-encrusted guitars from Sweden's Hagstrom and Goya brands, but the Eko brand of course is Italian.

For those not familiar with the story, it was the 1960s and The Beatles amongst other guitar-based groups had created an unprecedented demand for the electric guitar. The laws of supply and demand dicatated that several factories which had for many years been manufacturing accordians switched production to guitars and hence some interesting pearloid and glitter finishes and accordian-like pushbuttons started appearing on guitars.