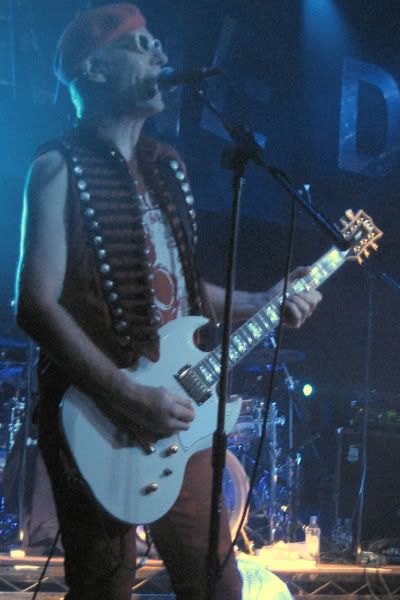 A lot of guitarists (online at least) seem to be into heavy rock and those widdly widdly players that no-one except for other guitarists seems to be into. I have to confess that most this kind of music just leaves me cold. As I grew up in the late 1960s and 1970s my own guitar heroes include people from the punk and new wave era. One of my very favourites is Captain Sensible of classic punk band The Damned.

The Damned were reportedly the first punk band to release a single ("New Rose" in 1976), the first to record an album (1977's "Damned Damned Damned") and the first to tour America. All of this, I suppose, depends on your definition of "punk" but we're talking about the late 70s phenomenon primarily in the UK, the most famous protagonists of which were The Sex Pistols.

In their original line-up Captain Sensible started out as The Damned's bass player but when they reformed in 1979 (first punk band to split, first to reform...) he took over on lead guitar duties and occasional keyboards.

Over the years they have had numerous line-up changes but the funny thing is that whoever is playing somehow the songs always sound quintessentially "Damned". I think they've had something like six drummers, eight bassists, six guitarists but only the one vocalist in Dave Vanian (although he has been known to go AWOL over the years).

Their current line-up has been in place for about five years and they are one of the best bands on the live circuit today. Last night at London's Carling Islington Academy I attended their album launch gig, celebrating the release of their latest album "So Who's Paranoid?" where they played a two-hour set of old and new songs all of which sounded fantastic.

Captain has been playing ESP LTD Viper guitars for the last eight years or so, but I thought his new white ESP LTD Viper 1000 Deluxe equipped with Seymour Duncan Custom-5 pickups and gold hardware sounded great and looked great under the stage lights. The design is obviously derived from Gibson's SG although the body has been skewed into an offset shape like Fender's Jaguar and Jazzmaster guitars.

Sensible is a very much under-rated guitar player. I think people don't take him seriously because The Damned are known as a punk band (although they are much more sophisticated than that) and because back in the 1980s Captain also had a solo career as a pop star and even made No.1 in the UK with "Happy Talk", a cover version of the song from the soundtrack of Rodgers and Hammerstein's "South Pacific". What a lot of people don't realise is that this guy is a very talented musician. I remember being blown away by his playing on 1979's "Machine Gun Etiquette" album (give "Plan 9 Channel 7" a spin), and if you're not impressed by his solo on "Under The Floor Again" (on 1982's "Strawberries") then you must have been lobotomised.