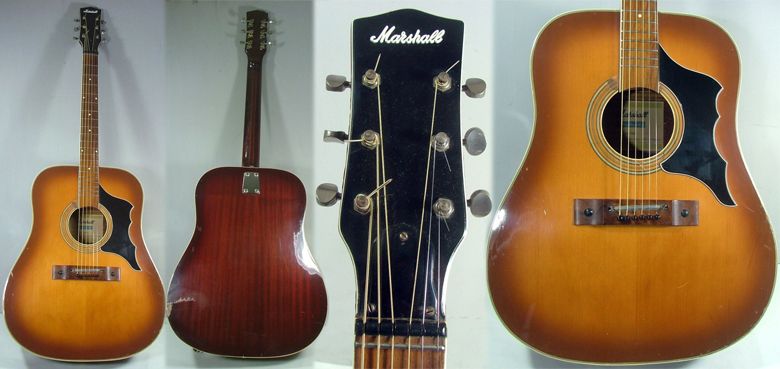 The name
Marshall
should need no introduction to anyone interested in guitars or rock music in general. The amplifiers produced by this now legendary British company are almost omnipotent on stages around the world and have been used by just about everybody.
The name is so well known but it's unusual to see it actually on a guitar - and an acoustic guitar at that! This particular
Marshall Bluesbreaker acoustic guitar
is currently being offered for sale on eBay, although unfortunately has sustained some damage to its rear. These were distributed by Rose Morris (I'd guess in the 1970s) and were - the seller claims - actually made in Italy by Eko. The eagle-eyed will notice that this Marshall Bluesbreaker is nearly identical to the
Eko Ranger
other than having a different shaped headstock and - of course - the Marshall name applied to it.
However, I'm wondering if perhaps they were made by Fratelli Fuselli (Fuselli Brothers) who produced the
E-ROS Dakota
fashioned after the Eko Ranger design? I'd say there was more of a resemblance.
G L Wilson
Guitarz - The Original Guitar Blog - now in its 9th year!