Yamaha Pacifica 112 Guitar Project, Part 4
I thought it was high time I blew the cobwebs off this long-forgotten guitar project from a few years ago. The damn thing just needed assembling and wiring up and in theory it should be ready to go. However, I had a small mishap when I dropped the replacement loaded scratchplate and broke off the lower horn. Fortunately, I still had the original guitar scratchplate, so I transferred the pickups, 5-way switch and volume pot to this plate. ("What about the tone pot?", I hear you cry. Well, somewhere along the way over the last couple of years it had detached itself, and I'd lost it. Then I decided that I didn't really want it anyway as I never use tone controls, so I figured I'd just leave it as it is).
As a plus point, I noticed that the original scratcplate had faded over the years to a pleasing deep cream colour. You can see the orignal colour in the area previously covered up by the now missing tone control.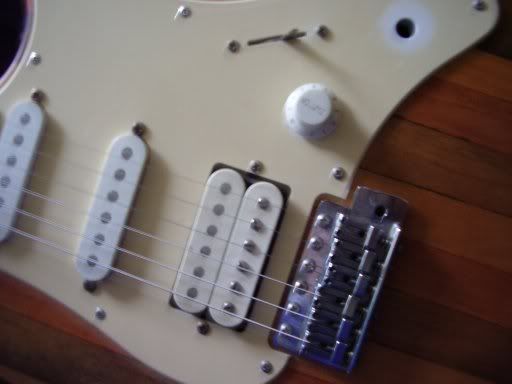 So, I put all the parts together, soldered the output wires to a jack socket and attached this to the edge of the guitar using a football-shaped (American football) plate. Then I strung her up.
Uh-oh! The string tension was tipping the tremolo bridge up at an alarming angle. Quick - add more springs!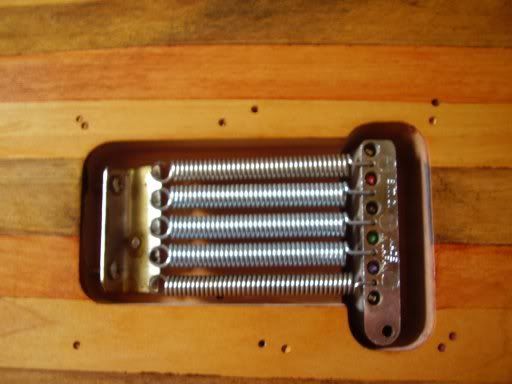 Now that was a good idea! As has often been said of Strat-style guitars, the springs in the tremolo cavity give the guitar a kind of built-in reverb. It turns out that this guitar now has a really nice tone. It has this ringing reasonance to it that is lacking in many other much more expensive guitars, and this was built up from bits and pieces that I'd bought from eBay! I've got to say that I'm really happy with this guitar and am surprised that it turned out to be so playable.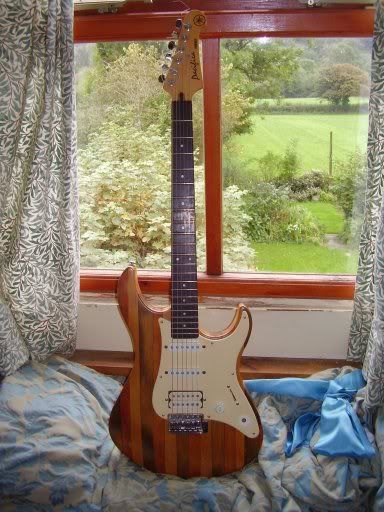 No doubt the guys over at the forum on
GuitarSite.com
would happily nominate this guitar as a candidate to their on-going
Worst Colour/Finish/Detail on a guitar
thread, but Hey! - it
was
an experiment, and I secretly quite like the "deckchair" stripes. They make the guitar individual and add to its personality. Perhaps if I was starting this project anew, I wouldn't go down the stripey route again; I'd probably experiment with some other unique look and it could end up looking even more disasterous!