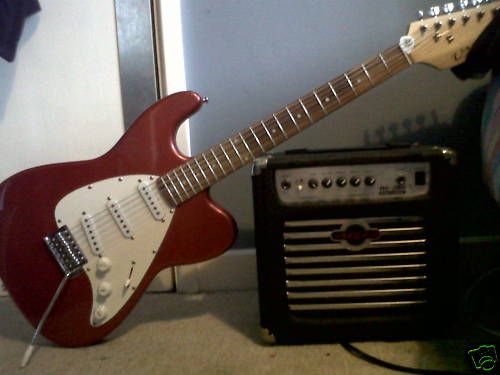 guitarz.blogspot.com:

As we all know, the Stratocaster is the most copied guitar ever. These days many of these plagiarists like to tweak the design to put their own spin on it, but I've never before seen anything quite as odd looking as this.

I don't know if this is a mass produced item or a one-off created by an individual (I suspect the latter), but it looks like the maker has used a Strat template for the body except for the area of the treble-side horn where they've switched the template for an upside-down Telecaster. It just looks awkward to me.

I don't think it would be worthwhile asking the seller anything about this guitar because someone already asked him if he could show a photo of the headstock and he replied he didn't know what a headstock is! But apparently, it's an Uno, not that I'm any the wiser for learning that piece of information.

On the subject of the headstock, it's partially obscured in the photo but I suspect that it may well be an uncut "paddle" shaped head as sold by various parts suppliers.

G L Wilson

NB: There are a lot of blogs STEALING content and bandwidth. If you read this anywhere else but on guitarz.blogspot.com then you are reading a blog that STEALS content. Please support original bloggers!