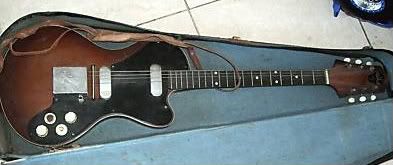 Here's an early British-made rarity, the Dallas Tuxedo. The seller explains:
From the late 1950s the Dallas Tuxedo was the first British made solidbody guitar to hit the market. Sophisticated design with through neck construction. Solid mahogany. This is the two pickup model with Rangemaster tremolo. Original case and leather strap. This guitar was found in an attic in Wallasey, just over the Mersey River from Liverpool, and not far from the Tower Ballroom. A guitar just like this was found in the attic of John Lennon's home in Woolton, Liverpool. He is purported to have owned and played it. Probably purchased from the same music store as this one!
So, a tenuous Lennon connection. I wonder what it'll sell for?