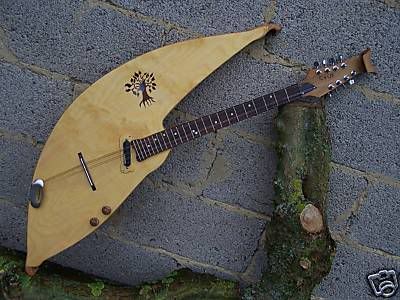 Yes, indeed, this is the 2,500th post on this, the world's longest running guitar blog. I find that quite astounding, especially when you think that I usually only post at a rate of one a day (at least I have done so for the last three or four years).

So, to celebrate, I'm showing you this particularly bonkers-looking instrument. You'll notice that it has eight strings - I think it's some kind of electric mandola or octave mandolin. The burning question, however, has to be: Why the ridiculous banana-shaped body?

Actually, this eBay seller - Cassandra Elk Design - has quite a few wacko designs on its books, some of which look like they've been knocked up from cheap Strat copies in the garden shed with a jigsaw. I'll probably be re-visiting this "brand" in future posts.