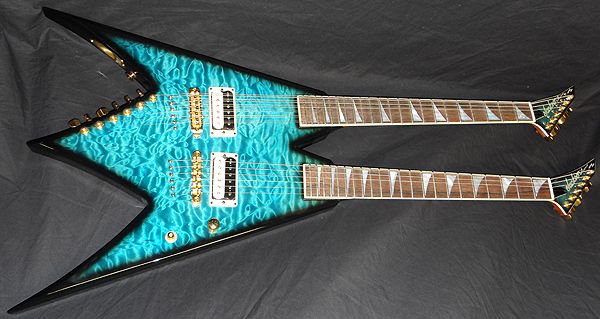 guitarz.blogspot.com
:
This
Jackson USA Custom Shop King V doubleneck
is an exercise in excess with its over-sized quilted maple topped body, dual through-necks, reverse pointy headstocks, gold hardware, mother of pearl sharkfin inlays, etc. I have to confess that I'm not a fan. I never did like the Jackson pointy headstock design - it just looks totally incongruous on just about any body design, and quilted maple I'm sure is supposed to imply opulence but to me it just seems like an unimaginative short-cut to tarting up a guitar's appearance. Many would be impressed, but I have to stifle a yawn.
Flying V? Flying W more like!
Currently being offered for sale on eBay with a Buy It Now price of $9,999.99.
G L Wilson
© 2011, Guitarz - The Original Guitar Blog - now in its 10th year!