I'm sorry but I wasn't able to post anything here whilst I was away in Bermuda. I did have some free time, but tell me honestly, if you were in Bermuda and the weather was beautiful, where would you rather be: cooped up in your hotel room typing away on your laptop, or HERE?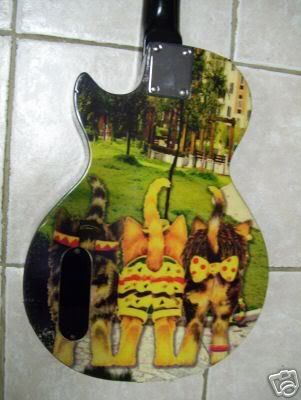 Anyway, back to the world of weird and wacky guitars... I've seen this
cheapy Les Paul Junior knock-off with cat graphics
previously on eBay, but haven't featured it on the blog before. Seeing as it has a bit of a holiday theme to it, I thought it would be appropriate right about now.
The cat in the middle seems to be suffering from some kind of personality crisis, as it can't seem to make up its mind whether it wants to dress up in holiday attire or else as
Geordi La Forge
from Star Trek.