OK, Band Meeting...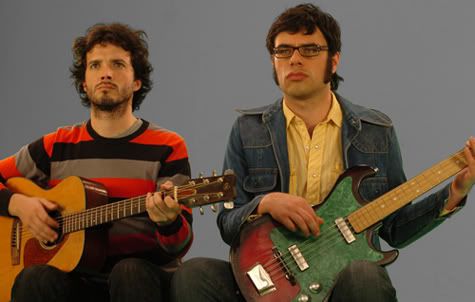 Sadly, tonight in the UK on BBC4 we'll be seeing the final episode in the first series of
Flight Of The Conchords
- one of the funniest and most inventive comedy shows to be seen in recent years. The premise is simple: Bret and Jemaine are two naïve musicians from New Zealand trying to make it in the music business in New York, aided and abetted by Murray their usually inept manager who has a day job in the New Zealand Consulate. If truth be told, not a lot actually happens of any momentum to our two heroes throughout the series. The joy of this programme is in the ridiculous dialogue, the hopeless tangles they get themselves into, and the fantastic and often quite surreal songs that are woven into the scripts usually in the form of some dream sequence.
I believe that they also have something to do with the recent resurgence in popularity of
Casio's DG-20 digital guitar
from the 1980s, if recent prices seen on eBay are anything of an indication. (I played one at the London Music Show back in the early 1980s when the instrument was first launched and it was a horrible thing. Basically it had the guts of a cheap home keyboard type instrument and with sensors under the fret positions on a rubber fretboard and with nasty black plastic non-tuned "strings".)