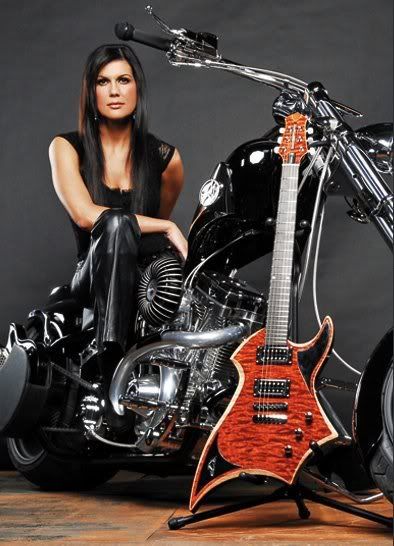 As a big fan of the TV series American Chopper featuring the custom bike builders of Orange County Choppers, I was excited to hear that the Teutul family and the OCC crew have teamed up with Peavey to produce this curious offspring - the Peavey limited edition Orange County Choppers guitar - of which there will be just 100 built.

OCC in turn have built a Peavey-themed bike, featuring an on-board guitar amp, which will be the subject of two forthcoming episodes of the TV series.

Actually, this will not be the first bike with integrated musical gear that we've seen in American Chopper. I'm thinking of the "joke" moped that Mikey unveiled for Billy Joel who was expecting to see his dream motorcycle. It featured hideous piano-key graphics and had an old Casio keyboard attached to the handlebars, and a mic so he could sing along whilst riding!