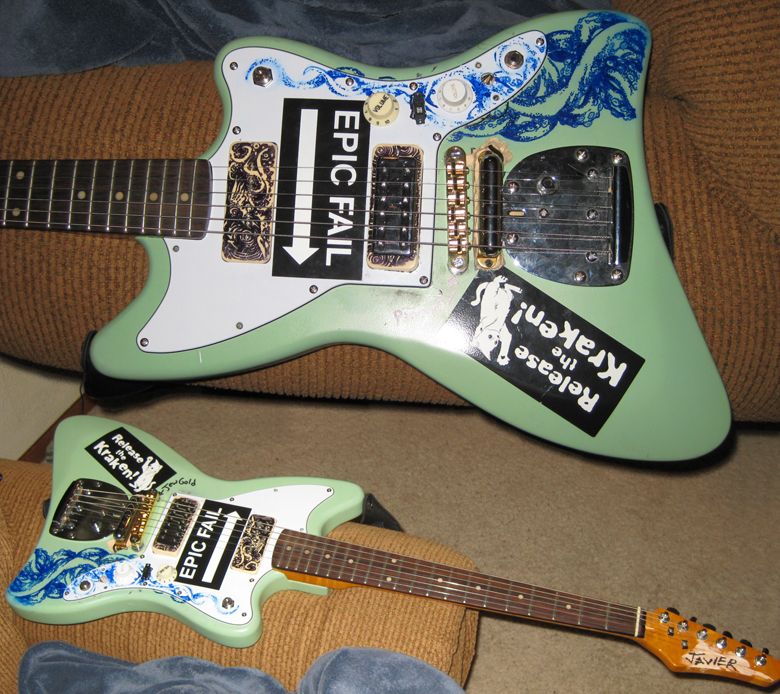 Harri writes:
This is my main guitar, Javier, who I modified heavily. He is an SX Liquid from rondomusic.com. I outfitted him with a Retrotron mini humbucker and a lipstick tail pickup from guitarfetish.com, painted him pistachio green, stuck a buncha stuff on him, and now he is as you see! I love this guitar. I keep him tuned to DGCGBB, and his third bridge effects come through really nice when the volume's rolled off. Hope you like'm!

Harri
Thanks for showing us that, Harri. I confess that I have been curious about pickups behind the bridge and the effects you can get with 3rd bridge guitars. I know that Sonic Youth have made much use of them. For anyone who is interested in 3rd bridge instruments, check out the fascinating website of
Hans Reichel
who made and played guitars not only with pickups behind the bridge but also with another fretboard beyond the bridge. (Sadly, Hans passed away last November, which alas I failed to report on the blog at the time.)
G L Wilson
© 2012, Guitarz - The Original Guitar Blog - now in its 10th year!