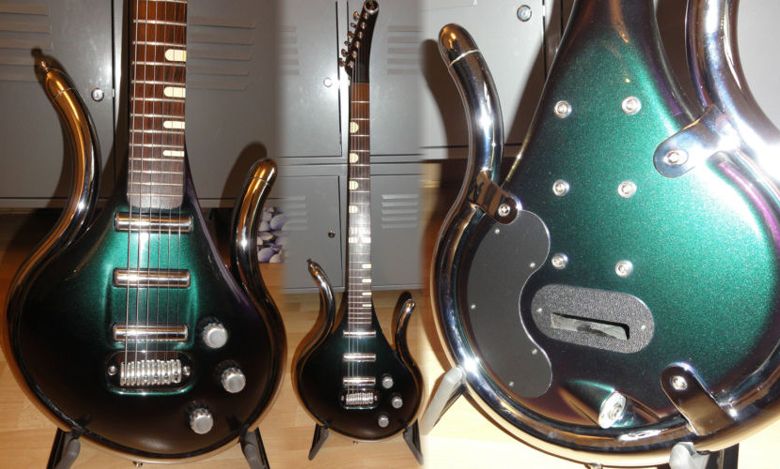 Those
Guitarz
readers who were savvy enough to buy a copy of our limited edition
Guitarz 2012 Calendar
may already have flipped through the pages to October 2012 and seen a particularly stunning photo of a Gus fretless bass. However, I don't think that we have ever looked at Gus guitars on the blog itself before.
This particular example is a
Gus G1 Baritone guitar
with the serial number G1/B 001. Built by Simon Farmer in the UK, each Gus guitar or bass is essentially a custom order, although some instruments will have more specific custom features than others. The construction is of cedar with a skin of carbon fibre. All hardware is fabricated in-house a the Gus workshop so these guitars are not going to carry all the same generic hardware that we see everywhere else. The body is basically a teardrop shape and - most notably - is mounted inside a chrome-plated aluminium tube (actually welded in 5 sections). This tube helps give the instrument a more recognisable guitar-like shape and provides the familiar body horns.
The G1 Baritone has a 30" scale length and is designed to be tuned down to B (a fourth below 'normal' guitar pitch). This example has been finished in "Plum Crazy" purple to green flip flop paint from House of Colors.
For more information please check out the
Gus Guitars website
.
Currently listed on eBay UK with a starting price of £2999.
Thanks to Dirk for suggesting we feature this guitar.
G L Wilson
© 2012, Guitarz - The Original Guitar Blog - now in its 10th year!