guitarz.blogspot.com - Guest blog by Steven Williams of www.dawsons.co.uk: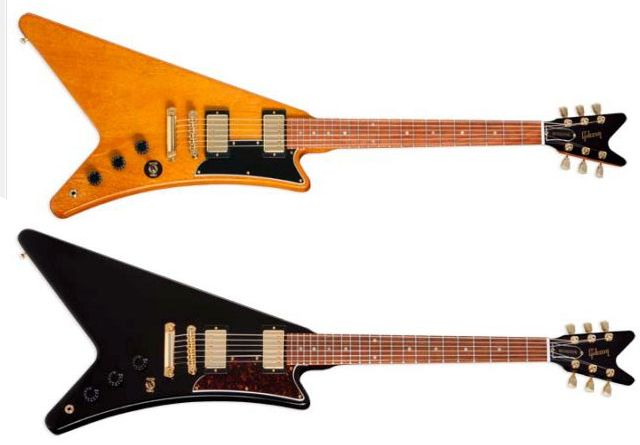 The
Gibson Moderne
is the closest guitar equivalent of the Bigfoot, in the sense that there is little evidence to prove its existence and there is yet to be solid proof of a real one anywhere on Earth. Guitar collectors consider the original Moderne the holy grail of Gibson collectable guitars. This is because the prototype designed in the late 50s as part of the 'Futura' range, along with the Flying V and the Explorer, failed to make it into production and simply vanished with no other prototypes appearing in pawnshops or even any trace of its existence until 1982 where it was released as part of the 'Heritage Series', and again later by Epiphone in Korea. Now decades later Gibson have released a new rendition of the fabled Moderne to start the hype, the mystery and the rumours all over again.
From what we know of this mystical creature, it appears to be almost identical to the original guitar. The very distinctive body, which looks like the cross-breed result of the Flying V and the Explorer, is made from mahogany along with its neck, which features a rosewood fingerboard and dot inlays. The Moderne is then finished off with a very cool forked headstock and to make sure it can replicate that vintage Gibson tone it has two '57 Classic humbuckers.
The Gibson Moderne is going to pretty popular with collectors, as it's the next best thing to the original, and people who simply like unique guitars. The guitar will be available in amber with a black scratchplate, or ebony with a tortoiseshell scratchplate. For more information on this guitar and its release date check out
this site
or
sign up to the newsletter
to be kept posted.
Steven Williams
© 2012, Guitarz - The Original Guitar Blog - now in its 10th year!