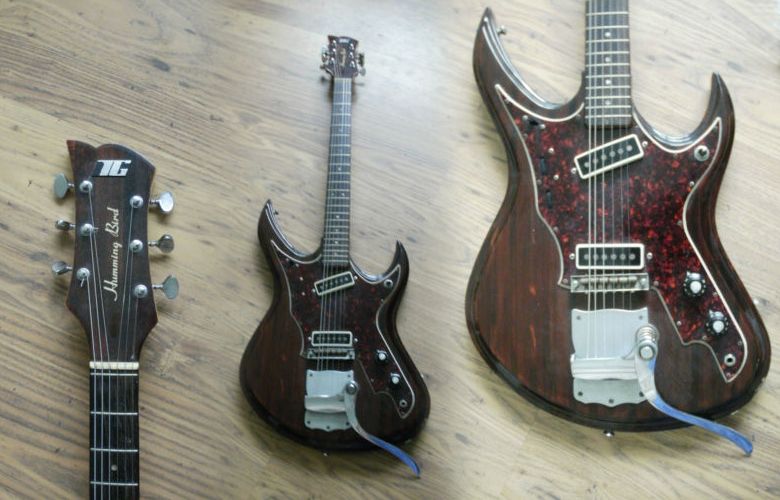 Here's quite a glorious
Tokai Humming Bird
from the late 1960s way before Tokai had gotten into the swing of producing such accurate and well-made replicas of Fender and Gibson guitars that those companies became seriously worried by the Japanese competition.
The Humming Bird is a guitar of its age. It has the same generic pickups that we see on other Japanese guitars of the same era, plus a very basic sub-Bigsby vibrato arm. The body horns are quite pointed which again brings to mind various of its Japanese-made contemporaries (e.g. Yamaha's early solidbodies, the SG-2 and SG-3) and the body has some German carve contouring around the top edge. The front pickup is angled
a la
Mosrite guitars. (Mosrites were famously used by The Ventures, a band who were seriously BIG in Japan).
I admire the seller's honesty when he/she says that it is "not the best playing guitar ever made by far, but more of a desirable collectors item". There's no BS and no hyperbole, it's just telling it like it is, and I wish more eBayers would take a leaf out of this seller's book.
Likewise, the pricing is not out of this world. The starting price is £250 and the Buy It Now price is £375 (currently listed on eBay UK).
G L Wilson
© 2012, Guitarz - The Original Guitar Blog - now in its 10th year!