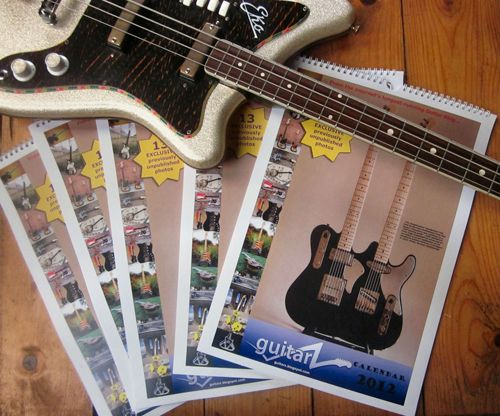 guitarz.blogspot.com
:
Yes, we still have 10 left in stock. If you've not yet got yours, you'll need to buy NOW so as to ensure delivery before the start of the New Year. (Those in the UK should receive calendars before Christmas).
Feedback from those who have already bought the calendars has been very positive. The calendars are A3-sized (420 x 300mm), beautifully printed on 170gsm silk coated paper, and feature
BRAND NEW EXCLUSIVE PHOTOS
of 13 weird and wonderful guitars and basses as submitted by
Guitarz
readers, including our very own Bertram's "Doppelcaster" twin-neck Tele on the front cover.
To purchase please select location from the drop down menu in the top right hand column of this blog and click on Buy Now. Payment is via PayPal or credit or debit cards.
G L Wilson
© 2011, Guitarz - The Original Guitar Blog - now in its 10th year!