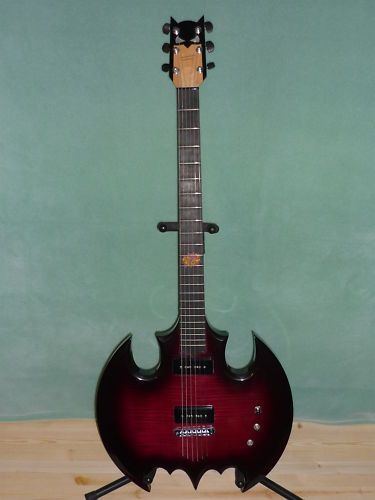 guitarz.blogspot.com
:
You could be forgiven for thinking this was yet another axe-shaped guitar, but the body design is actually based on the bat-shaped logo of comic book superhero Batman. Take a look at the headstock, that's the dead giveaway!
This
Bat-i-tone baritone guitar
, has a 28 1/4" inch scale, flamed maple drop top on an alder body, maple neck and ebony fretboard with custom reconstituted rock "Kapow!" inlay (which unfortunately doesn't show up too well in the photograph).
It's a one-off quality hand-built instrument,
although we here at Guitarz think that with
a
$10,000 (Canadian dollars) starting price and Buy It Now price of
$17,000 (Canadian), it's is a lot to have to shell out for a novelty instrument, however nicely made it is.
Via Vince Gotera on our
FaceBook page
.
G L Wilson
© 2011, Guitarz - The Original Guitar Blog - now in its 10th year!