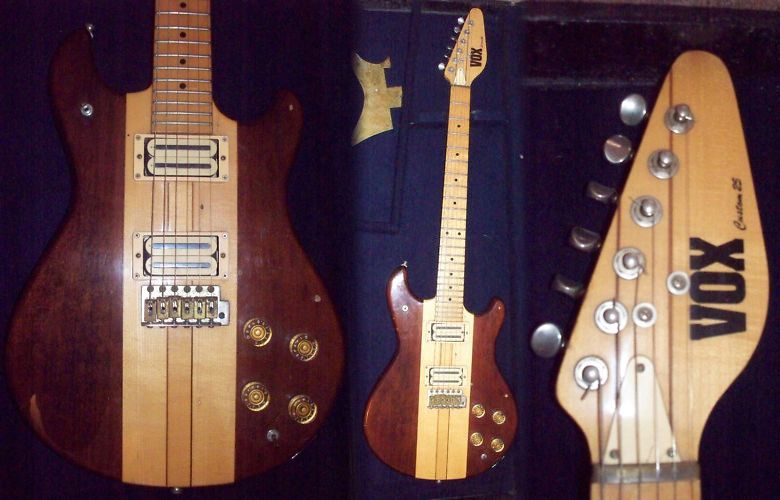 My first ever electric guitar in the 1980s was a then contemporary
Vox Standard 25
, the design of which was obviously based on the Stratocaster but with a much more rounded-shaped body. The
Vox Custom 25
- as seen here - was the deluxe version and shared the same body shape as the Standard but was of through-neck construction and had dual DiMarzio humbuckers and a Les Paul like control layout. For myself I really dislike the pickup selector switch on the upper horn - I find it's far too easy to hit accidentally while playing and also aesthetically looks ugly, I always think. (I know, I don't really like it on Les Paul guitars either, and I'm speaking as someone who play a Vintage LP-style guitar these days).
These guitars, along with the Standard and Custom 24 models with a more Gibson-like scale length, are often spoken of today in reverential tone by those in the know. Phrases like "the best guitars ever produced under the Vox name" are often bandied about. This is very possibly true - at least until the latest boutique offerings from Vox. They were built in Japan (I want to say at the now legendary Matsumoko factory but I don't actually have any info to corroborate that - I think I read it somewhere) and were extremely solid, reliable and well-made guitars if a little on the weighty side. My Standard 25 served me well for many years until I fell in love with a paisley Stratocaster, which I did prefer because not only was it prettier but it seemed to be much more resonant and ultimately much more playable.
Nevertheless, these early 80s Voxes are ones to look out for!
G L Wilson
Guitarz - The Original Guitar Blog - now in its 9th year!