guitarz.blogspot.com: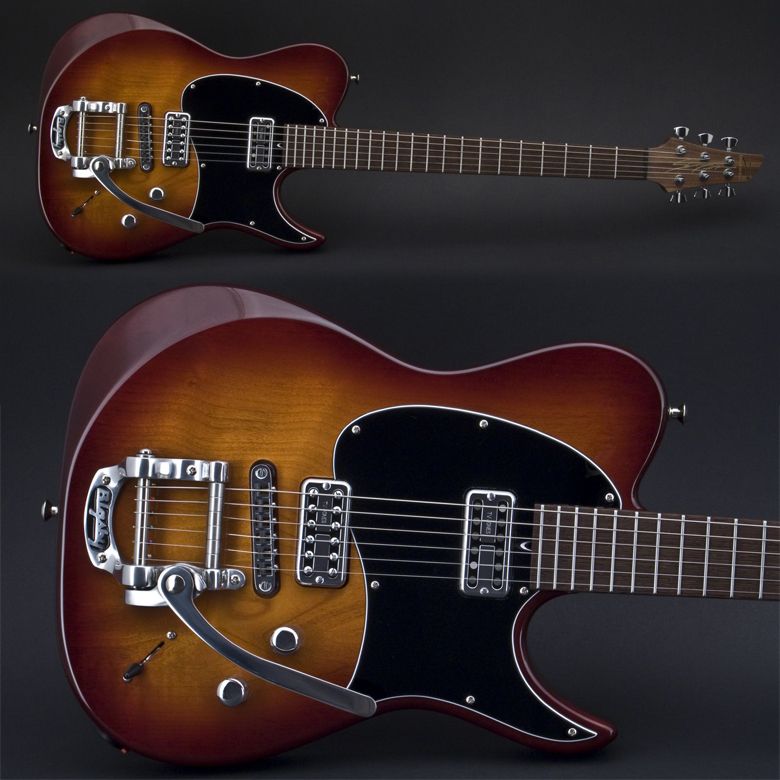 I'd like to feature some contemporary instruments on this blog, without having to resort to the latest slight variations on a theme from the usual suspects, and so it is that we must look to the independent guitar builders. The influence on the above-pictured Custom I from Dingwall Guitars must be all too apparent, but it doesn't slavishly follow the guitar that is its obvious inspiration, and is - I think - all the better for it. With a highly-contoured sculpted body, TV Jones pickups and Bigsby vibrato, this is one elegant T-type electric guitar.

Here is the full press release from Dingwall Guitars:
Dingwall Custom I Guitar



Dingwall Guitars best known for their critically acclaimed high-end bass guitars are going back to their roots with the Custom I guitar. The first guitar in this series combines the look of a classic rock/blues guitar with the fit, finish, performance and tone equaling the very best of the boutique guitar world. It made it's debut at the Montreal Guitar show and received rave reviews.

Guitar designer Sheldon Dingwall concentrated on several key areas such as tone, resonance, lightweight, balance, ergonomics, tuning stability, seasonal stability, feel and appearance.

Resonance, tone and lightweight all can be greatly affected by wood choice and tone chambers. Years of testing have lead Dingwall to a tone that's warm and full without the typical nasal quality that some tone chamber designs produce. Traditional woods like alder and swamp ash are used for the body because they provide a great platform to enhance through design. Using ultra lightweight Sperzel tuners and leaving select areas of the body solid to create a ballast effect achieve exceptional balance.

The body's contours have been designed with several playing positions in mind from standing with the guitar strapped high, slung low, seated in a traditional position or hunched over as you would late at night when playing quietly. The scooped out horn and tapered heel allow unhindered access to the very last frets.

Tuning stability is addressed by combining an ultra low headstock angle in conjunction with a custom formula Graph Tech nut, locking Sperzel tuners a Graph Tech bridge and a customized Bigsby tremolo. Sheldon says "It's hard to tell the difference between the best sounding guitar and the worst sounding if they're both out of tune. They both just sound bad." For this reason Sheldon Dingwall takes the "use any means possible" approach to making sure the guitar plays and stays as in tune as possible.

Seasonal stability is not something that's discussed or advertised much. Due to the extreme mid-west climate a large percentage of guitar repairs that came into Sheldon Dingwall's repair shop were humidity related. Glenn McDougall of Fury Guitar (Canada's first electric guitar manufacturer) taught Sheldon many secrets to a stable neck/truss-rod assembly. By carefully matching neck and fingerboard woods, installing a truss-rod designed to minimize thermal changes Dingwall has created a neck that is extremely stable through temperature and humidity changes. The standard neck is a 3 piece maple laminate with walnut as an option for even more resonance and lighter weight.

The Custom I neck carve is influenced by 60's C-shaped necks. The fretboard edges are rolled in for a played in feel. The fingerboard features a compound radius starting at a very comfortable 7-1/2" at the nut and flattening out to 16" at the bridge.

A TV Jones Classic Plus is featured in the bridge position with a TV Jones MagnaTron in the neck position. The 3-way blade switch is located out of strumming range to avoid accidental selection changes.

The look of the Dingwall Custom I is pure Rock'n Roll. With the gain dialed up on a good tube amp the bridge pickup nails the crunchy yet warm classic rock tone with a distinct almost cello-like character. Through the clean channel the neck pickup tone ranges from sweet and slightly scooped to warm and jazzy.

For pricing, options and availability contact sales@dingwallguitars.com.
G L Wilson
Guitarz - The Original Guitar Blog - now in its 9th year!