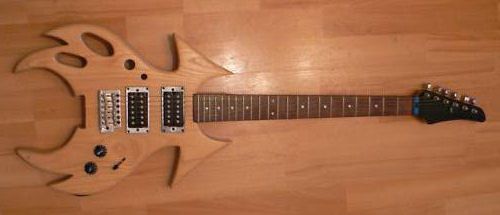 guitarz.blogspot.com:

I do genuinely enjoy seeing homemade self-designed guitars, even if perhaps such designs are not always practical or in some cases poorly executed.

This particular one-off guitar seems to be competently built and has a completely original body design, but I don't think this is one for playing sitting down. I think the maker was aiming to create something in the B.C. Rich mold. I do worry about the neck joint here though. It doesn't exactly have a neck pocket as such; it's more of a "neck ledge" which isn't going to allow for a snug fit and there may well be neck movement because of this.

I appreciate that the maker/seller may have put in a lot of hard work into this instrument but I do think that his starting bid of £499 is somewhat optimistic for a homemade instrument. I think the logic being used here is that because it is a one-off it is rare and because it is rare it must be worth a lot of money. Sorry, but it doesn't quite work like that.

However, he does generously allow that, "The rights to the guitars unique design will be yours once purchased." (sic)

Anyone fancy mass-producing this design? Here's your chance!

G L Wilson

NB: There are a lot of blogs STEALING content and bandwidth. If you read this anywhere else but on guitarz.blogspot.com then you are reading a blog that STEALS content. Please support original bloggers!